Stories about "Merrill Gymnasium"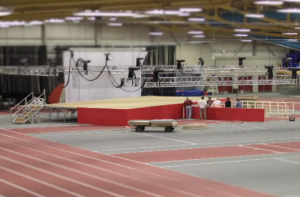 Thursday, November 1, 2012 4:30 pm
Merrill Gym undergoes a transformation from sports venue to theatrical stage for the inauguration of Clayton Spencer.
Wednesday, September 8, 1999 12:00 am
Legendary Bates College track and cross country coach Walter Slovenski, 79, died Sept. 8 at Central Maine Medical Center, surrounded by his family, after a long battle with cancer. A memorial service will be held at the Bates Chapel on Sept. 24 at 4 p.m. followed by a reception at the Benjamin E. Mays Center on campus.