News Archives
Friday
May 8, 2015 9:39 am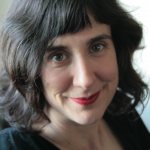 Bates College welcomes prize-winning Northern Irish poet Sinèad Morrissey for a reading on May 8.
Thursday
March 4, 1999 3:12 pm
Poet Paul Muldoon will read from his works at Bates College March 18 at 8 p.m. in Chase Hall Lounge. The reading is sponsored by the Bates College Department of English. The public is invited to attend without charge.