Stories about "Peter Steele"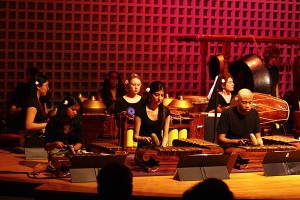 Monday, March 18, 2013 4:13 pm
The Bates Gamelan Orchestra welcomes the Massachusetts group Gamelan Galak Tika for a joint performance on March 24.
Tuesday, March 1, 2011 2:37 pm
The Bates College Gamelan Orchestra, a student ensemble that plays music of Indonesia, and special guest artists perform Lou Harrison's remarkable Double Concerto for Violin, Cello and Javanese Gamelan at 8 p.m. Saturday, March 12, in the Olin Arts Center Concert Hall, 75 Russell St. Titled Cross-Currents in Bronze, the orchestra's program of contemporary music for the gamelan also features performances by Balinese dancer Shoko Yamamuro and a world premiere of music by composer Peter Steele.