Stories about "Richard Goode"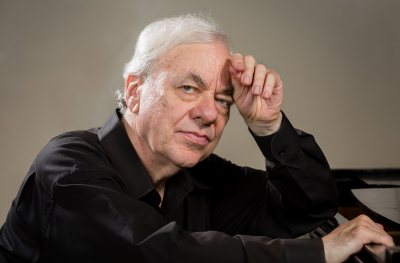 Thursday, November 20, 2014 8:43 am
Richard Goode, acclaimed as "one of the titans of the piano repertoire," returns to Bates College for a performance on Dec. 5.
Thursday, August 23, 2001 3:06 pm
Internationally acclaimed pianist and Nonesuch recording artist Richard Goode will open the 2001-02 Bates College Concert Series with an interpretation of classical masterpieces at 8 p.m. Wednesday, Sept. 5, in the Olin Arts Center Concert Hall.
Wednesday, December 30, 1998 9:56 am
Please note that the recently distributed Bates College Calendar for the 1999 winter and spring terms includes three scheduled concerts that have been canceled. Performances by pianist Richard Goode and violinist Marcia Goode scheduled for Jan. 19 and 20 at 8 p.m. in the Olin Arts Center Concert Hall have been canceled. In addition, a Jan. 22 performance at 8 p.m. in the Olin Arts Center by soprano Christina Astrachan, accompanied by pianist Mark Howard, also has been canceled.