Stories about "Stuart Abelson"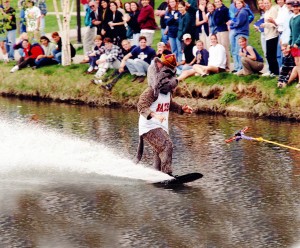 Friday, May 23, 2014 10:33 am
When the Bobcat (Stu Abelson '97) waterskied across Lake Andrews 17 years ago today, ABC News was there to cover the story. Take a look!
Tuesday, September 29, 2009 4:50 pm
Bates College President Elaine Tuttle Hansen has announced the appointment of two Bates College alumni to the college's Board of Trustees, Laura L. Young Connelly '88 and Stuart B. Abelson '97.
Tuesday, June 3, 1997 10:32 am
Stuart Abelson, a graduating senior from Andover, Mass., left Bates with a splash, when he waterskied across Lake Andrews on May 23, wearing a Bobcat mascot suit. Abelson was towed by a car driving alongside the two acre-size body of water that the students affectionately call "the puddle." Abelson's single pass on Lake Andrews lasted about 15 seconds.