Stories about "ultimate frisbee"
Thursday, May 17, 2018 4:44 pm
Watch the women's ultimate team, ranked No. 2 in the U.S. and led by the amazing Josie Gillett '18, prepare for nationals.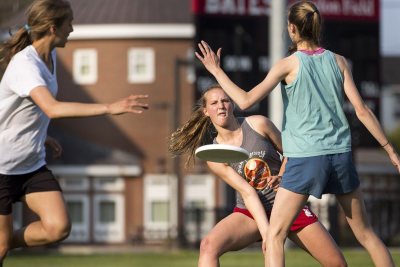 Friday, May 20, 2016 10:51 am
The club has come far, says Ruthie Baker '16 of Minneapolis. Earning a tournament bid "was never something I expected playing Ultimate at Bates."
Friday, September 1, 2006 2:13 pm
Bates has Orange Whip, while Colby has the Dazzlin' Asses. To the south are Bowdoin's Stoned Clowns. In Vermont are the Middlebury Pranksters. So, the names of some nearby Ultimate Frisbee college teams prove that the sport still gets its ya-yas out by flaunting a late-'60s counterculture attitude.