---
John G. Murphy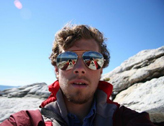 Murphy, John G.
Class of 2008
Hometown:Saratoga Springs, New York
Email: jmurphy3@bates.edu
I am deeply committed to learning as much as I can about the physical world that surrounds us. The study of physics is the most fundamental form of inquiry for me and acts as a strong foundation for all other areas of exploration. I also study philosophy which provides me with the skills to rigorously and critically evaluate knowledge about the world. I believe that all discipline are inherently connected and find joy in all forms of study. Recently I have become fascinated with the relationship between science and public discourse around the global climate change.
In the lab I have researched organic LED?s at Bates and femtosecond laser ablation in GaAs for the purpose of exciton trapping at the University of Pittsburgh through the NSF Research Experience for Undergraduates program.
I plan to attend graduate school and aspire to become a science communicator working toward closing the gap between science and culture. Eventually I would like to teach at a school like Bates.
Other aspects of my life at Bates include being asked to go surfing and snowboarding on the same day, working toward carbon neutrality at Bates through the Bates Energy Action Movement (BEAM), outing club adventures, hours spent in Commons discussing the oddity of social norms, and running around chasing squirrels on the Quad, to name a few."
---
Contact Us