Jacob Longaker
Jacob R. Longaker
207-786-6071
Politics
Visiting Assistant Professor
Pettengill Hall, Room 121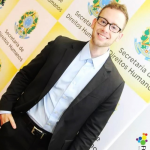 University of Kansas (Ph.D., 2016; M.A., 2013; B.A., 2009)
Teaching and Research Interests and Expertise:
I am Visiting Assistant Professor of Politics, specializing in comparative politics, public policy, and women, gender, and sexuality studies. I teach and research social movements, institutions, and public policy in Latin America. My expertise is in LGBT politics and policy in Brazil, where I have lived and studied extensively.
My research agenda has two goals: 1) to understand the relationship between institutionalization within the State and internal dynamics of social movements; 2) to assess the translation of movement demands into substantive policy outcomes. My work is motivated by normative questions of participation, representation, and inclusion within movements marked by intersectional differences. I address these questions in my research on LGBT movements in Latin America and Brazil, with particular focus on trans activism.
My published work on framing and transgender policy design in Latin America appears in Transgender Rights and Politics (University of Michigan Press, 2014). Currently, I am polishing two article pieces that explain how institutionalization within the State conditions processes of identity work within the Brazilian LGBT movement. I am at work on a manuscript and series of articles that explore the expansion of participatory institutions for LGBTs in Brazil.
At Bates, I teach in Politics, Latin American Studies, and Gender & Sexuality Studies. In my courses, I emphasize the acquisition of conceptual knowledge and critical thinking skills through interdisciplinary instruction, research and writing as process, and community-engaged learning with diversity and inclusion. Additionally, I incorporate experiential learning through activities such as practicing capoeira and preparing feijoada.
Courses:
Fall 2017/2016
PLTC249 Politics of Latin America
GSPT219 Social Movements in Latin America
Winter 2017/2018
PLTC122 Government and Politics in Comparative Perspective
PLTC377 Experiences in the Policy Process
Short Term 2017
Politics of Race, Gender, and Sexuality in Brazil