Stephen Engel
Stephen Engel

207-786-8209

Politics

Assistant Professor

Pettengill Hall, Room 178

Women and Gender Studies
---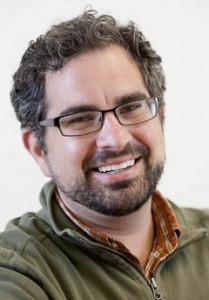 Wesleyan University (B.A., 1998); New York University (M.A., 2001); Yale University (M.A., M.Phil., Ph.D., 2009)
I am an assistant professor of politics at Bates College and an Affiliated Scholar of the American Bar Foundation in Chicago (www.abfn.org).  After serving on the faculty in political science for two years at Marquette University (2009-2011), I came to Bates in 2011. My research and teaching focuses on American political development, inter-branch relations, constitutional law, and social movements, particularly LGBTQ socio-political and legal mobilization.
My recent book, American Politicians Confront the Courts: Opposition Politics and Changing Responses to Judicial Power (Cambridge University Press 2011) is a cross-institutional analysis that examines how changing understandings over time of loyal opposition has influenced elected branch relations with the federal judiciary.  My first book, The Unfinished Revolution: Social Movement Theory and the Gay and Lesbian Movement (Cambridge University Press 2001) evaluates how the distinct political institutional environments of the US and the UK affected the development, strategies, and goals of the LGBTQ rights movements in each country.
I am currently working on two projects. The first examines state and non-state institutional regulation and recognition of sexuality since the late nineteenth century in the United States. My intention is to reconsider LGBTQ politics not only as a matter of social movement but also, and primarily, as a politics of citizenship and exclusion. Doing so highlights both the direct involvement of the state in the construction of LGBTQ rights claims, but also how people's lives are constructed by non-state institutions, e.g., corporate human resource policies. The second project, with collaborators Stephen Skowronek (Perit Professor of Political Science at Yale University) and Bruce Ackerman (Sterling Professor of Law and Political Science at Yale University), is a conference program, The Progressives' Century, which evaluates a century's worth of progressive legal, political, and constitutional reform to consider its resilience or exhaustion and to propose alternative formulations that might advance the cause of democratic renewal. The conference will be held November 1-2, 2013 at Yale University. More information can be accessed at http://isps.yale.edu/conferences/the-progressives-century.
The common aim of my research is to gauge how institutional and ideational environments motivate, constrain, or otherwise affect political behavior and to explain changes over time in legal and political outcomes.  To accomplish this, my work utilizes a variety of qualitative and historical methods and engages scholarship from multiple disciplines including history, law, and sociology.
My research has been supported by grants from and fellowships with
National Science Foundation
American Bar Foundation
Oscar M. Ruebhausen Fund of the Yale Law School
Institute for Social and Policy Studies at Yale University
Yale University Center for the Study of American Politics
Yale University Center for Lesbian and Gay Studies
For the 2013-14 academic year I will be a visiting scholar at the American Bar Foundation in Chicago and on leave from Bates College.
Books
American Politicians Confront the Court: Opposition Politics and Changing Responses to Judicial Power.  New York: Cambridge University Press. 2011. http://www.cambridge.org/us/knowledge/isbn/item6435245/?site_locale=en_US

        Reviews:
"Engel contributes a new, significant piece to the historical understanding of the way that elected officials regard and interact with the US judiciary. By Engel's analysis, conflicts between the elected branches and the courts have been dramatically reshaped, now taking the form of "measures that harness judicial power for political ends" rather than actions that more directly undermine judicial legitimacy. Engel identifies this trend on the strength of his own exhaustive and painstaking historical work, starting with the early republic and extending all the way through the George W. Bush administration. In the process, he helps readers newly appreciate how originalism, signing statements, filibusters, and other tools of political power really work. Though the title suggests the possibility of a slightly broader scope (Engel's analysis of the conflict is primarily limited to partisan debates and disagreements), his study is still groundbreaking by any definition. Summing Up: Highly recommended." Choice
The Unfinished Revolution: Social Movement Theory and the Gay and Lesbian Movement. New York: Cambridge University Press. 2001. http://www.cambridge.org/us/knowledge/isbn/item1113863/?site_locale=en_US
        Reviews:

"The Unfinished Revolution is remarkable for the elegance of its intellectual architecture." The Gay & Lesbian Review
"In a comparative case study of US and British gay and lesbian movements since WWII, Engel engages new social movement theory and theories of collective action, integrating analysis of political opportunity structures into a political process model that accounts for the when and why of social mobilization…. A useful contribution to gay and lesbian studies and general social movement scholarship, especially in sociology." Choice
Selected Peer-Reviewed Articles and Books Chapters
"Seeing Sexuality: State Development and the Fragmented Status of LGBTQ Citizenship." Oxford Handbook on American Political Development, Vallely, Lieberman, and Mettler, eds. (forthcoming 2013)
"Frame Spillover: Media Framing and Public Opinion of a Multifaceted Rights Agenda," Law and Social Inquiry (forthcoming, 2013). Early access online issue available. http://onlinelibrary.wiley.com/doi/10.1111/j.1747-4469.2012.01319.x/abstract
"Assessing Presidential Manipulations of Federal Judicial Power" in The Politics of Judicial Independence, Bruce Peabody, ed. (Baltimore: Johns Hopkins University Press, 2010) http://jhupbooks.press.jhu.edu/ecom/MasterServlet/GetItemDetailsHandler?iN=9780801897719&qty=1&source=2&viewMode=3&loggedIN=false&JavaScript=y
"Before the Countermajoritarian Difficulty: Regime Unity, Loyal Opposition, and Hostilities toward Judicial Authority in Early America," Studies in American Political Development 23 (Fall 2009) http://journals.cambridge.org/action/displayAbstract?fromPage=online&aid=6228964
"Political Education in/as the Practice of Freedom: A Paradoxical Defense from the Perspective of Michael Oakeshott."  Journal of the Philosophy of Education 41 (September 2007) http://onlinelibrary.wiley.com/doi/10.1111/j.1467-9752.2007.00560.x/abstract
"Organizational Identity as a Constraint on Strategic Action: A Comparative Study of Gay and Lesbian Interest Groups."  Studies in American Political Development 21 (Spring 2007) http://journals.cambridge.org/action/displayAbstract?fromPage=online&aid=1014332
"History of Racial Politics in the US" in Racism, Xenophobia, and Distribution: A Study of Multi-Issue Politics in Advanced Democracies. John Roemer et. al. (Cambridge: Harvard University Press and Russell Sage, 2006) http://www.hup.harvard.edu/catalog.php?isbn=9780674024953
"Marketing Everyday Life:  The Postmodern Commodity Aesthetic of Abercrombie & Fitch." Advertising & Society Review 5 (October 2004) http://muse.jhu.edu/journals/asr/v005/5.3engel.html
"Making a Minority: Understanding the Formation of the Gay and Lesbian Movement in the US." Handbook of Gay and Lesbian Studies. Diane Richardson and Steven Seidman, eds. (London: Sage, 2002) http://www.sagepub.com/books/Book209825
Courses Taught at Bates College
American Political Institutions and Processes (PLTC 115)
Constitutional Law: Balance of Powers (PLTC 216)
Rights and Identities in American Constitutionalism (PTWS 282)
Voice, Participation, and Liberty in American Constitutionalism (PLTC 214)
Sexuality Movements and the Politics of Difference (PLTC 238)
American Political Development (PLTC 329)
Politics of Judicial Power (PLTC 351)
Political Inquiry: Democracy and Democratization (s49)