Akhtar, Ali H.
Ali H. Akhtar

207-786-6479

Religious Studies

Assistant Professor

Hedge Hall, Room 212

Classical and Medieval Studies
---
Ph.D., History and Middle Eastern Studies, New York University; B.A., Cornell University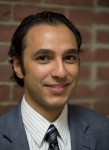 Dr. Akhtar is an historian of government, religion, and economy, focusing on Mediterranean Europe and the Middle East in the medieval and early modern periods. His first book project traces the political debates over Graeco-Arabic philosophy and Sufism in medieval Spain and Iraq as a larger window into the contested nature of political and religious authority in the medieval world. He is currently working on a new book on politics, law, and economy in the Republic of Venice and Ottoman Empire.