Francesco Duina
Francesco G. Duina
207-786-6319
Sociology
Professor
Pettengill Hall, Room 263
European Studies
B.A., M.A., University of Chicago
M.A., P.hD., Harvard University
Professor Duina's CV – April 2017
Francesco Duina is Professor of Sociology and a faculty member of the European Studies Program at Bates.
He is also Honorary Professor in Sociology at the University of British Columbia, and Visiting Professor in the Department of Business and Politics at the Copenhagen Business School. Between 2013 and 2015, he was Professor and Head of Sociology at the University of British Columbia. He taught at Harvard during 1998-2000. He is currently an elected Council Member of the Culture Section of the American Sociological Association.
Professor Duina's research and teaching interests include economic sociology, international political economy, and the sociology of culture. He is particularly interested in the continued relevance of nation states in the contemporary world, the design of the European Union and other trading blocs, and the contours of American culture.
He has published numerous chapters and articles in leading journals such as Economy and Society, Journal of European Public Policy, Review of International Political Economy, Review of International Studies, New Political Economy, and Regulation & Governance. 
Between 2010 and 2015, Professor Duina was a member of the editorial board of the Journal of European Public Policy. Since 2010, he has been on the Advisory Editorial Board of Economy and Society.
He has authored six books. Three focus on American culture: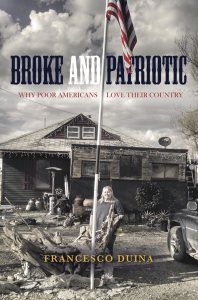 Broke and Patriotic: Why Poor Americans Love Their Country  (forthcoming with Stanford University Press in October 2017) explores the deep commitment to America shared by the most economically marginalized Americans – a section of the population that could very easily be expected to resent their country. Based on over 60 extensive interviews conducted in Alabama and Montana in venues such as laundromats, bus stations, fast-food restaurants, and shelters, the book gives a voice to an often ignored but large, growing, and important segment of the American population. Why are these impoverished Americans so patriotic – more so than the poor in other advanced countries and richer Americans? What do they love about their country? And what are the implications of their patriotism for the social order, inequality, and America's standing in the world?
Professor Duina also recently wrote Winning: Reflections on an American Obsession (Princeton University Press 2011). The book undertakes an unprecedented analysis of competition in the United States. It investigates, in particular, the ideas of winning and losing in American society. Why do we care so much about winning and fear losing? What characteristics do we ascribe to winners and losers? What is at stake in our competitive events? What are we after, really, as we pursue victory? The book has attracted considerable media attention and was featured on two radio shows: WNPR Connecticut Public Radio (Where We Live) and WAMC Northeast Public Radio (Academic Minute).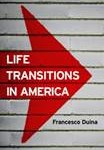 In Life Transitions in America (Polity Press 2014), in turn, Professor Duina analyzed the dominant discourse in the United States on eight major transitions in life (from going to college to retirement).
Three additional books examine the importance of institutions and culture for the economy.

In The Social Construction of Free Trade: The EU, NAFTA, and Mercosur (Princeton University Press 2006), Professor Duina examined the social origins of law in the European Union, Mercosur, and NAFTA. The book was translated into Chinese in 2009, and won the American Library Association Award for an Outstanding Academic Book.

In Institutions and the Economy (Polity Press 2011), Professor Duina examined from a sociological perspective the role of institutions in the economic behavior of the individuals and organizations, and in the functioning and performance of national and international markets.
A

nd in Harmonizing Europe: Nation States within the Common Market (SUNY Press 1999) he put forth a historical-institutionalist explanation for variation across countries in the implementation of European Union law.