---
BOLD Class Agents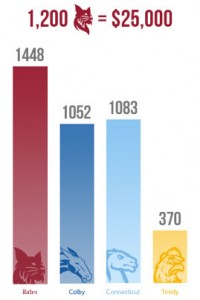 WE WON!!!
Bobcats of the Last Decade (BOLD) did Bates proud by easily outpacing Colby, Connecticut College and Trinity in the annual March Mania giving competition.
BOLD alumni from the Class of 2003 to 2012 made more than 1,200 gifts to the challenge, giving Bates its first March Mania victory – and an extra $25,000!
Thank you to all 165 BOLD Volunteers who helped Bates achieve this incredible result!
Questions?
For more information, please contact Hayley Anson '06, Associate Director of Annual Giving for BOLD classes, at hanson@bates.edu or 207-786-8251.
---
Volunteer Groups
Contact Us