Contact Us
---
---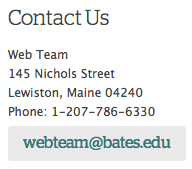 How do I change the Contact Us information?
If you've ever edited a page in WordPress, then you can edit your site's Contact information.
Dashboard
From the Dashboard, look for the Contact Us tab. Make the changes you want and then click the blue "Save Changes" button. The changes you make will go live immediately.