Content Support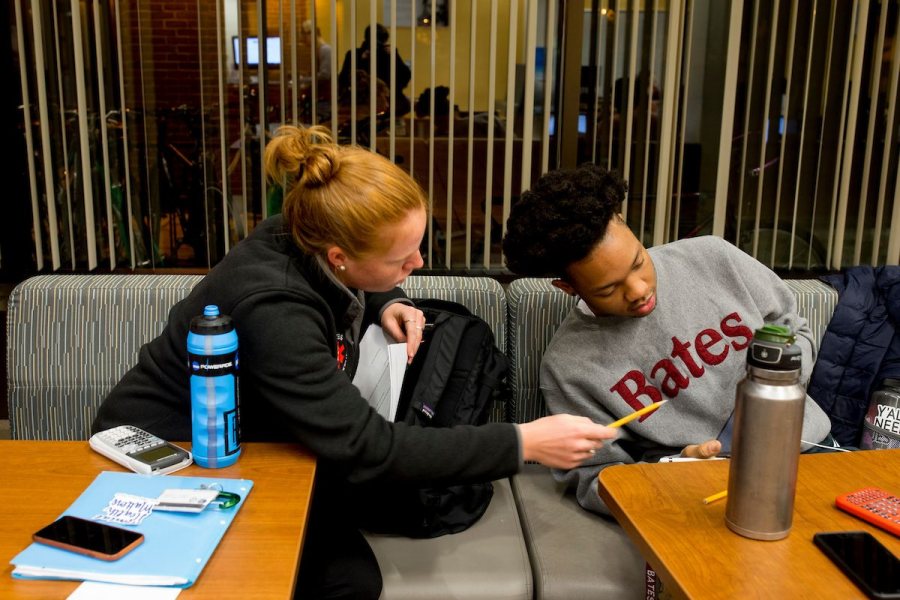 Peer support at ARC is all about mastering not only the information and skills covered in your courses, but also the ways that people solve problems within academic disciplines. ARC Peer Educators who support content learning are students who have been through the course that you're taking now, worked to do well within them, and have strategies to share on how you can do the same. They can work with you on course material, discipline-specific problem-solving strategies, and critical thinking for most courses taught at Bates.
Drop-In Tutoring in ARC
What do Content Tutors do?
Content tutors can help students in drop in hours during the evening or one on one appointments during the day. There are content tutors available for Chemistry, Biology, Physics, Economics, Geology, Neuroscience, and Environmental Studies. They can help with labs, homeworks, test preparation and overall review of notes. Drop in hours often result in a collection of students working together, being guided by the content tutor on staff. We can help you tackle individual concepts or navigate your courses as a whole.
Individual tutoring appointments run throughout the day, and can be made by visiting the ARC front desk, chatting online with a Resource Representative, or by using WC Online.
Evening drop-in labs are a place for students to study, do homework, get ready for exams, and do all the work of a being a student in an environment where you're surrounded by others students in the course, and tutors who can provide guidance. No appointment is needed, just come with your course materials and get to work. If you raise your hand, a tutor will come by to help.

Course-Attached Tutoring (CAT) Program
What is the CAT Program?
Course-Attached Tutoring (CAT) sessions are an opportunity for peers to learn course content, outside of the classroom, from one another. CATs are students who have taken and done well in the course that you're now taking. CATs are students who act as peer educators in introductory level science courses, like Chemistry 107. They each attend a section of the course and provide students with weekly study sessions to help facilitate peer learning and to answer questions about coursework or lab work. Sometimes going to your professor to ask questions can be intimidating, so CAT sessions provide a space where students can feel more comfortable asking questions. If you are looking to work on problems and learn from your peers, CAT Sessions are the place for you. Not only will you be able to get extra help outside of class or office hours, but you'll get to meet new people from your class.
Who are my CATs?
CATs are students who successfully completed the course for which they lead help sessions and who are willing to use their first-hand experience and knowledge to help their peers become better learners. CATs share strategies that aim to build readiness and comprehension. Ultimately, CATs work to help students understand that problem solving is a process, and that with practice students can claim authority of their own learning. CATs participate in bi-weekly staff meetings and training sessions throughout the semester to learn from one another and to support their own development as peer leaders.