Peer Assisted Learning (PAL)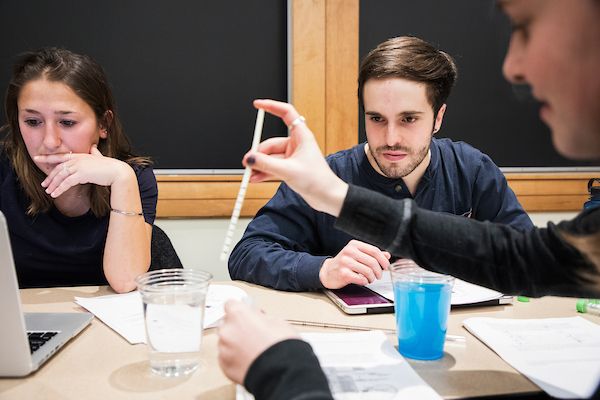 Peer Assisted Learning (PAL) sessions are an opportunity for peers to learn course content, outside of the classroom, from one another. PAL Leaders are students who have taken and done well in the course that you're now taking. PAL Leaders are students who act as peer educators in introductory level science courses, like Chemistry 107. They each attend a section of the course and provide students with weekly study sessions to help facilitate peer learning and to answer questions about coursework or lab work. Sometimes going to your professor to ask questions can be intimidating, so PAL sessions provide a space where students can feel more comfortable asking questions. If you are looking to work on problems and learn from your peers, PAL is the place for you. Not only will you be able to get extra help outside of class or office hours, but you'll get to meet new people from your class.

Who are my PAL Leaders
PAL Leaders are students who successfully completed the course they are leading and who are willing to use their first-hand experience and knowledge to help their peers become better learners. PAL Leaders share strategies that aim to build readiness and comprehension. Ultimately, PAL Leaders work to help students understand that problem solving is a process, and that with practice students can claim authority of their own learning. PAL Leaders participate in bi-weekly staff meetings and training sessions throughout the semester to learn from one another and to support their own development as peer leaders.
When are PAL Sessions happening?
See what students and faculty have to say about the PAL Program
---
Courses Supported:
| | | | | | |
| --- | --- | --- | --- | --- | --- |
| Fall Semester | CHEM 107 | CHEM 217 | PHYS 107 | BIO 202 | BIO 206 |
| Winter Semester | CHEM 108 | CHEM 218 | PHYS 108 | BIO 202 | |
---
For more information about the PAL program, please email: arc@bates.edu