Writing & Language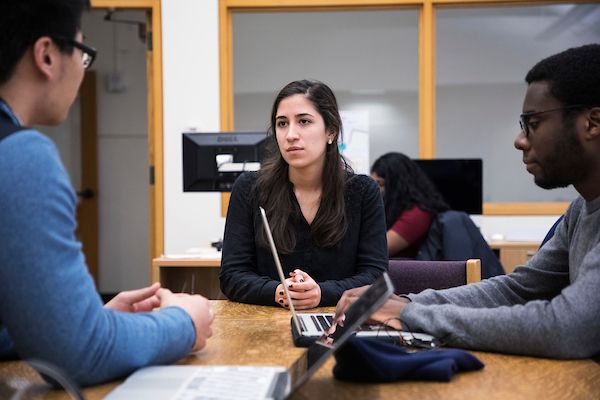 The Writing & Language Center empowers Bates students in becoming more effective writers, communicators, thinkers, and learners by providing a supported environment for students to generate ideas, collaborate, draft, write, revise, edit, and present. The center supports students in using writing and language to achieve their personal goals.
Writing Tutors
What are Writing Tutors?
Writing Tutors are peer tutors who specialize in assisting students with any and all writing assignments. They are trained and willing to help you with papers, essays, speeches, presentations, and group projects in any discipline. You can seek help from a writing tutor at any time during your writing process, from brainstorming to reading through drafts, incorporating instructor feedback and polishing it all up. The writing tutors' goals are to support your growth as a writer and your improvement on skills like organization, thesis statement construction, incorporation of outside sources, argumentation, and more. Drop by and see a writing tutor anytime that ARC is open, and let them know what you would like to work on. They provide an empathetic and non-judgmental , collaborative environment that is centered around your questions and goals.
Many of our writing tutors have been certified as Writing Fellows through the short term course, The Theory and Practice of Writing and Tutoring. This means that they have completed intensive training on the pedagogy of tutoring writers.
When can I find writing support in ARC?
English Language Learner Support
What does ARC have for English Language Learner support?
We seek to foster and promote the use of diverse languages at Bates while also providing support in English to improve academic writing and speaking skills. ARC staff members are trained in the foundational approaches to support ELL students and multilingual speakers. If possible, we can arrange an appointment with a writing tutor who is also fluent in your first language. Resource Representatives (at the front desk) can accommodate your preferences in language support.
Language Tutors
What are Language Tutors?
Language Tutors are here to support all modern and ancient languages offered at Bates. The tutors support Latin, Ancient Greek, Spanish, Chinese, Japanese, Russian, German, and French. They can help with vocabulary, grammar, and translation questions. Language tutors will introduce themselves in classes at the beginning of each semester but can help support classes of all levels. They can be particularly helpful to help organize notes or practice before a test/exam.
When can I find a Language Tutor?
Peer Writing and Speaking Assistants
What is a Peer Writing and Speaking Assistant?
Peer Writing and Speaking Assistants (PWSAs) are writing tutors assigned to a specific course. We have PWSAs attached to each First Year Seminar and many W2s. This position provides class-oriented support, including but not limited to written and oral assessments. PWSAs are in this position because they demonstrated expertise in the subject, built a strong relationship with the professor, or have previously taken the course. PWSAs will introduce themselves at the beginning of the semester, but you can also ask your course instructor or come into ARC to find their contact information. If you are enrolled in a course with a PWSA attached to it, schedule a meeting with them. They possess the tools and background to assist you with the particulars of your assignments and content. Think of PWSAs as a subspecies of general writing tutors–their sole responsibility is your course. PWSAs are designed to help you, in your class, when you need it.
When can I find my Peer Writing and Speaking Assistant in ARC?
Your Peer Writing and Speaking Assistant will set hours when they are available based on they syllabus for your class. Watch for communication from them!
Technical Writing Assistants
What is a Technical Writing Assistant?
Technical Writing Assistants (TWAs) are Peer Educators who focus on supporting students who are taking writing intensive courses in Biology. This position provides class oriented support, specifically for the written work in core Biology courses. TWAs are in this position because they are familiar with the unique challenges in learning to formally write in Biology, and love supporting students as they develop this skill. TWAs will hold regular office hours in ARC, as well as additional sessions before major assignments are due (see schedule below).
When can I find a Technical Writing Assistant in ARC?
Writing Fellows
What are Writing Fellows?
Writing Fellows take Education s19, 'Writing Center Theory & Practice,' where they engage deeply with the academic field of composition and writing center studies while practicing their skills in a practicum supporting writing in the local community. Writing Fellows apply their training and experience to working within the ARC, supporting Bates students as writers and Bates faculty as teachers of writing.

Thesis Support
When can I find thesis support?
Thesis Cafe
Thesis Cafe offers students a quiet, supportive space to write, research, and think with other thesis writers. Come for inspiration, motivation, and helpful answers to your writing questions. ARC tutors who are also writing their theses will be on duty, ready to offer you a friendly reading of your drafts, to point you to additional support, or simply to commune with you as you all write together. You need only bring yourself and your writing and researching tools of choice.
In Module C, Thesis Cafe will happen four times per week, every week at the following times and locations:
| | | |
| --- | --- | --- |
| Day | Time | Physical Location or Zoom Link |
| Monday | 7pm – 9pm | Roger Williams 105 (13 students max) |
| Tuesday | 7pm – 9pm | Zoom Link |
| Wednesday | 4pm – 6pm | Roger Williams 105 (13 students max) |
| Thursday | 9am – 11am | Zoom Link |
We hope that offering two sessions per week in a physical, socially-distanced digital learning lab and two sessions online, and offering both morning and evening cafes will accommodate students' diverse learning preferences and students studying from "away" or in other time zones (we know you're out there!).
We look forward to seeing you, hopefully, on a regular basis!
---
Please use this calendar below to view time, location and Zoom links for each scheduled Thesis Cafe. Click on a scheduled session to place that information on your own Google Calendar.
Meet with an ARC Peer Tutor for Writing
ARC Peer Tutors for Writing are available whenever the Writing Center is open. Log in to WC Online to see our tutor schedule and make an appointment.
Meet with Writing @ Bates Professional Staff
Writing @ Bates professional staff are also available to meet for one on one consultations.
Bridget Fullerton – Social Sciences, Humanities and Interdisciplinary Studies
Stephanie Wade – Natural Sciences, Pyschology, and Interdisciplinary Studies