26 of our favorite Bates photographs (and why!) from 2014
In your college application, you're telling us your story. In the the spirit of storytelling, Bates photographers Phyllis Graber Jensen and Sarah Crosby have offered to tell us something about themselves and their work at Bates College.
The two photographers have chosen these 26 photos as their personal favorites of 2014. Why these images? Well, read on!
Let the Light In
"I'm always looking for the light. It transforms even the most ordinary assignments, like this annual Martin Luther King Jr. Day Read-In, into something beautiful." — Sarah Crosby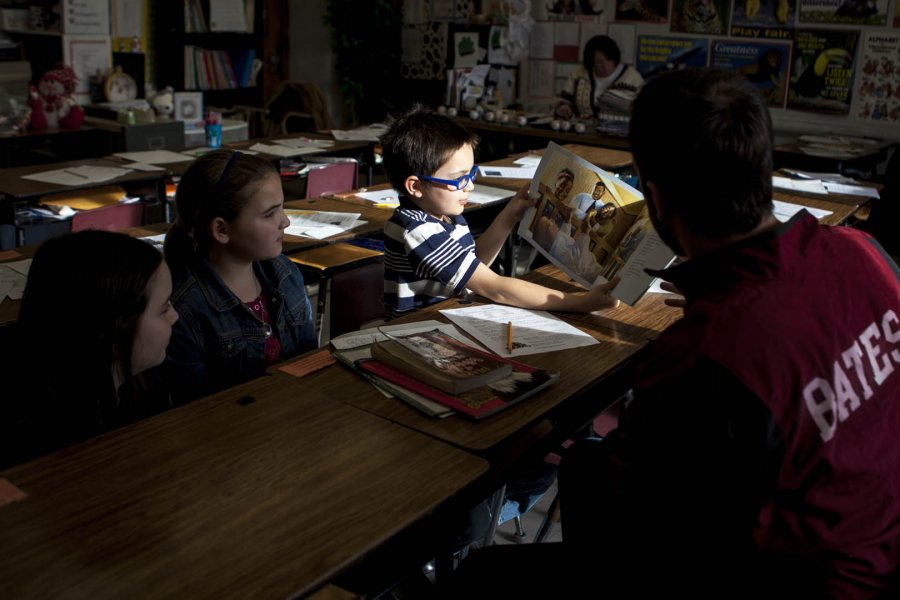 ---
Passing the Gate
"I walk past the Class of 1906 gate on the average of once a day, and nine times out of 10, I will photograph it. Somebody stop me." — Phyllis Graber Jensen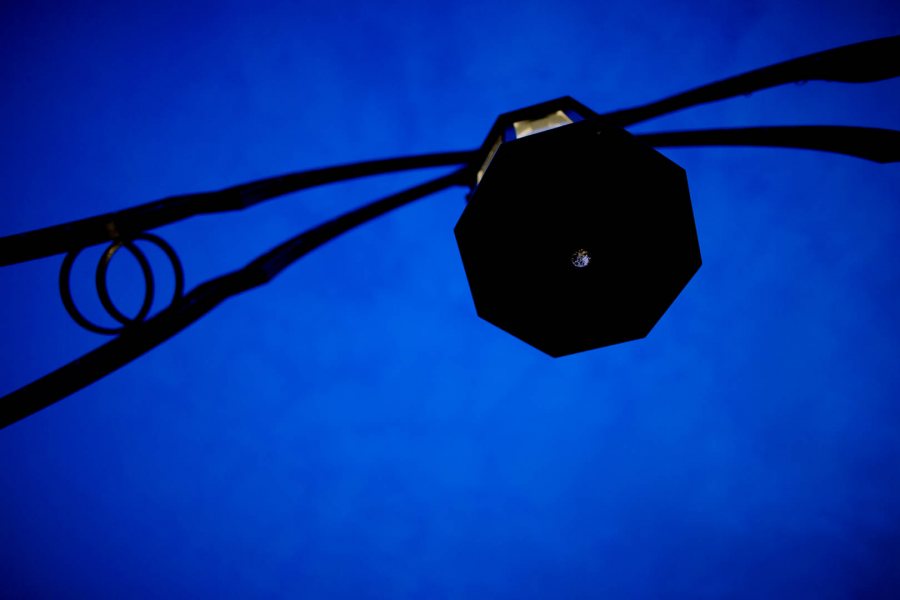 ---
Making a Motion
"This was for a story about Sarah Fusco '15 setting a Maine State Meet record that had been held since 1991 by her Bates coach, Jay Hartshorn, who ran for Colby. I used motion to tell the story through a metaphorical portrait, and had Fusco run by, over and over, until the moment was right." — Sarah Crosby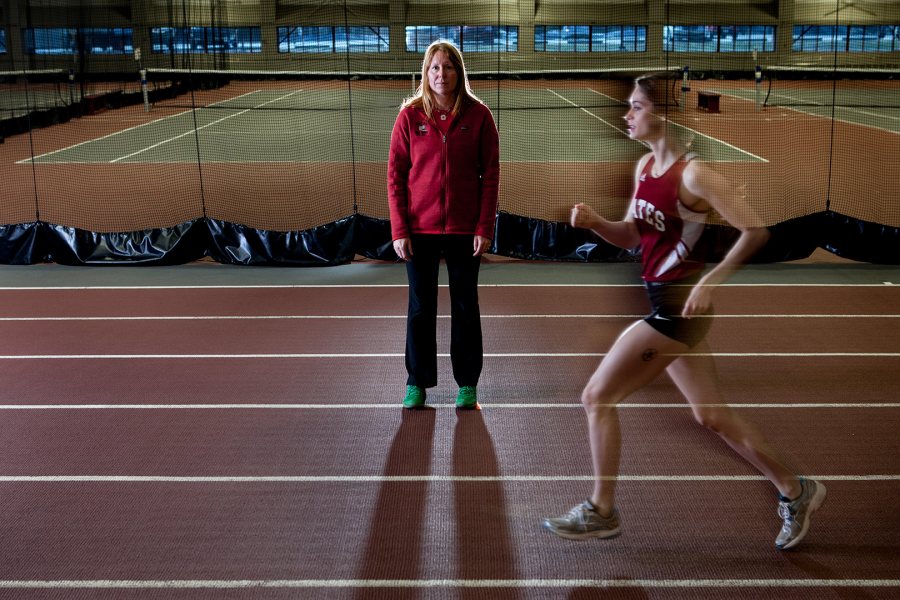 ---
Looking Up
"A Lewiston businessman let me use his riverside property as a perch to photograph the Great Falls Balloon Festival. He and his daughter were within my sightline, until they weren't. I didn't see any balloons, nor did I see the two of them, until I turned around and looked up. Lucky for me that I wasn't invited to join them on the roof." — Phyllis Graber Jensen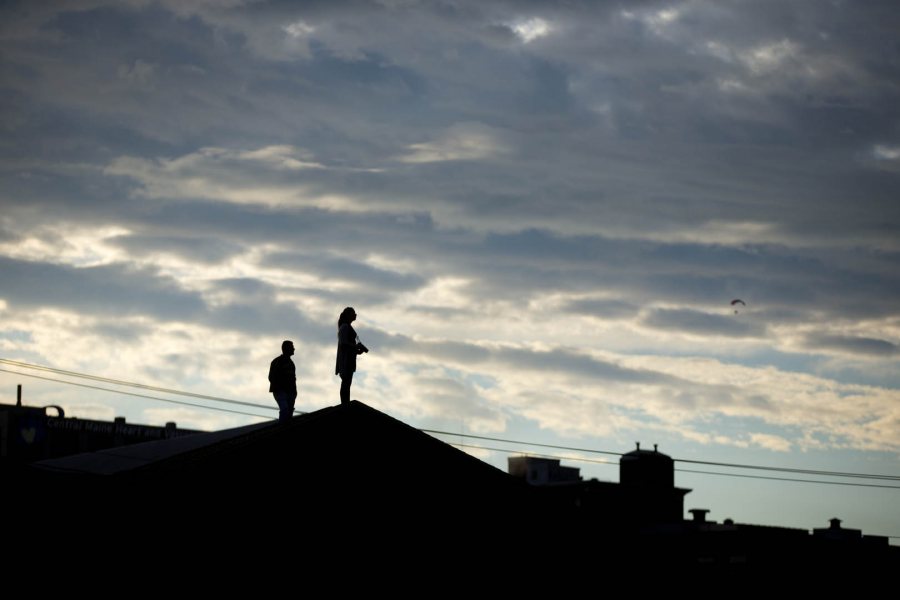 ---
Berry Good
Summer at Bates is a great time to explore new photographic situations, like this shoot at Ocean Spray headquarters in Middleborough, Mass., with Peter Wyman '86 (right), Pat Quinn '12 and Ladd intern Kelsey Mehegan '15. When the group showed up with hip waders (used in cranberry harvesting) and Bates gear, I knew there was great energy for this shoot." — Sarah Crosby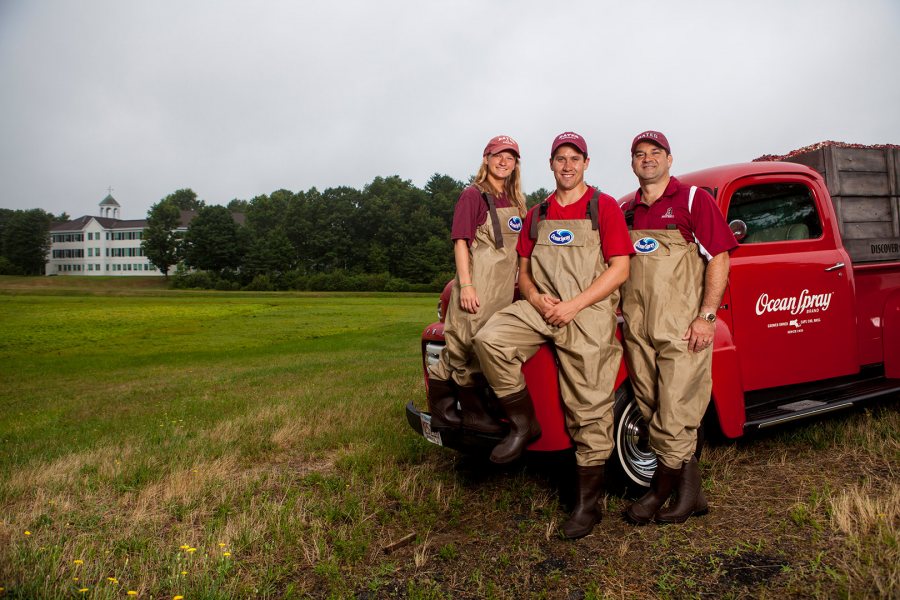 ---
Local Angle
"I had just spotted pictures on Instagram and Facebook of the Amherst and Smith communities participating in campus-based Ferguson protests, and wondered if Bates students had anything planned. Not 10 minutes later, I received an email alerting me to a die-in at Commons. As a former newspaper photographer, I relish the opportunity to cover 'spot news.' And as a member of the Bates community, I admire student efforts to prompt important conversations about the world we live in." — Phyllis Graber Jensen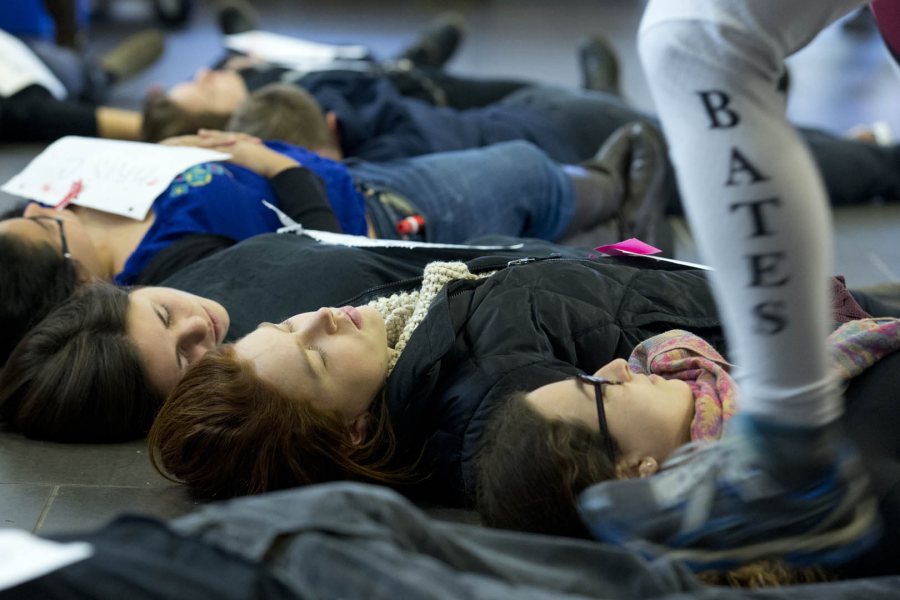 ---
The Eyes Have It
"Children, like Grant Bouchard watching fireworks at Reunion, come at the world with a constant perspective of wonder and curiosity. Photography has allowed me to retain that perspective." — Sarah Crosby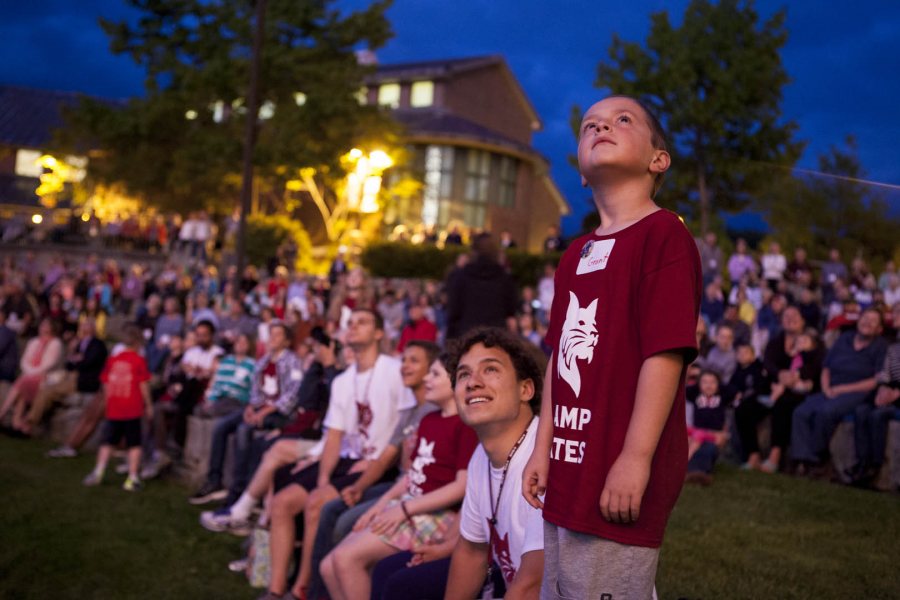 ---
All That's Left
"Laundry hanging from a clothesline on the 'tar beach' of my New York City apartment building: that's what I imagined after seeing this foliage clinging to its vine during a pre-Thanksgiving storm on the Historic Quad." — Phyllis Graber Jensen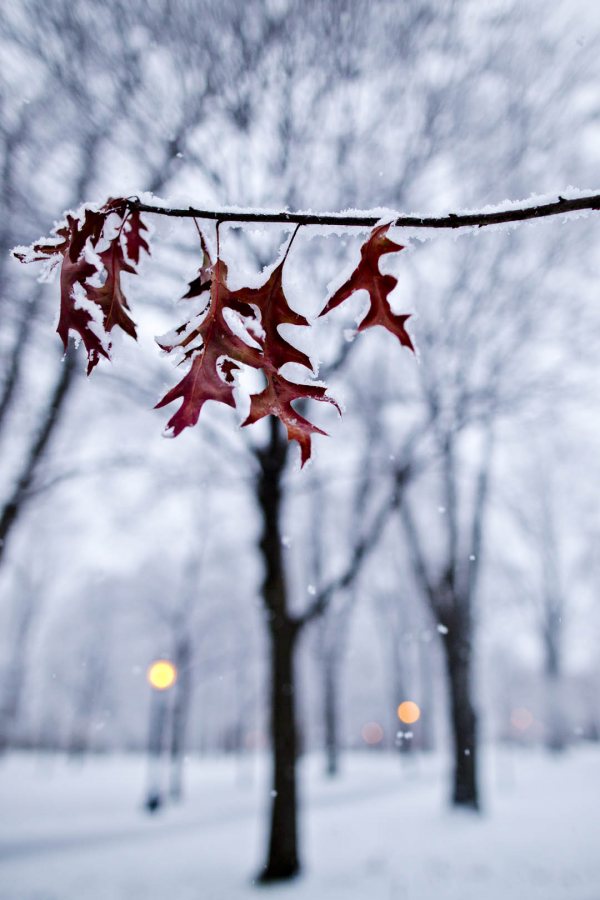 ---
On the Down Side
"From left, Abbey Bierman '17, Phillip Dube '16 and Jess Wilson '17 drew bird's-eye views of Bobbin Mill Brook in Auburn while I perched between branches, on a downslope, looking for an interesting view of their fieldwork." — Sarah Crosby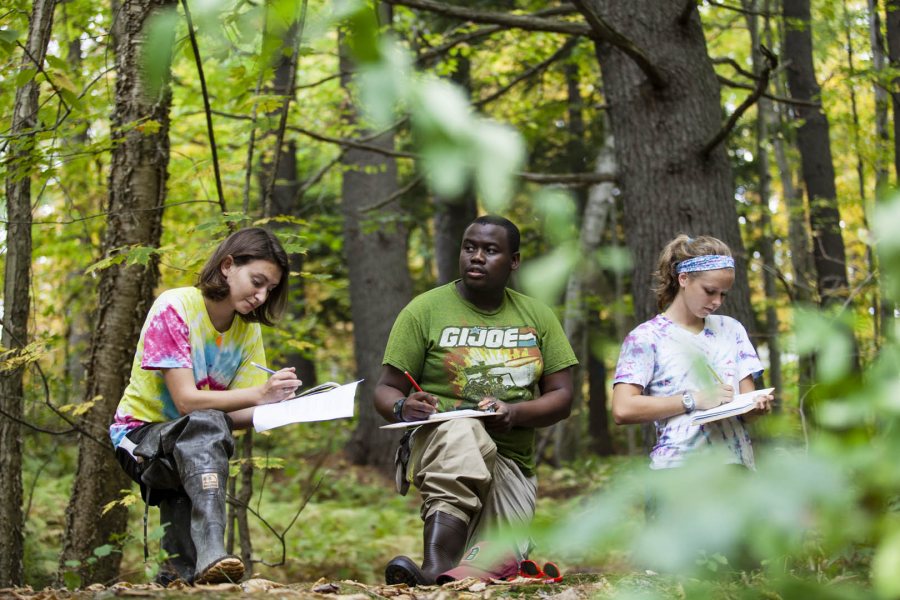 ---
Weighting In Line
"As the academic year kicks off, football athletes do strength and fitness testing in the Davis Fitness Center. Testosterone filled the air like a mist. I trod lightly." — Phyllis Graber Jensen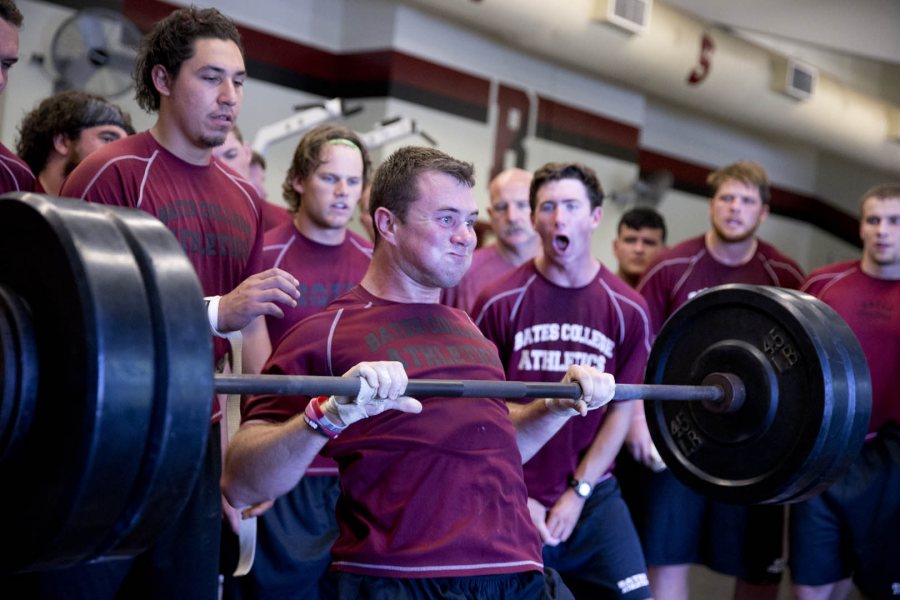 ---
Positive Image
"A lecture is rarely a rich visual event for a photographer, but the interaction between speaker and students afterward sometimes yields an interesting image. Silhouetted by the light of the projector, I jumped at this moment as a student receives a business card from Daniel Vannoni '05 after his talk on entrepreneurship." — Sarah Crosby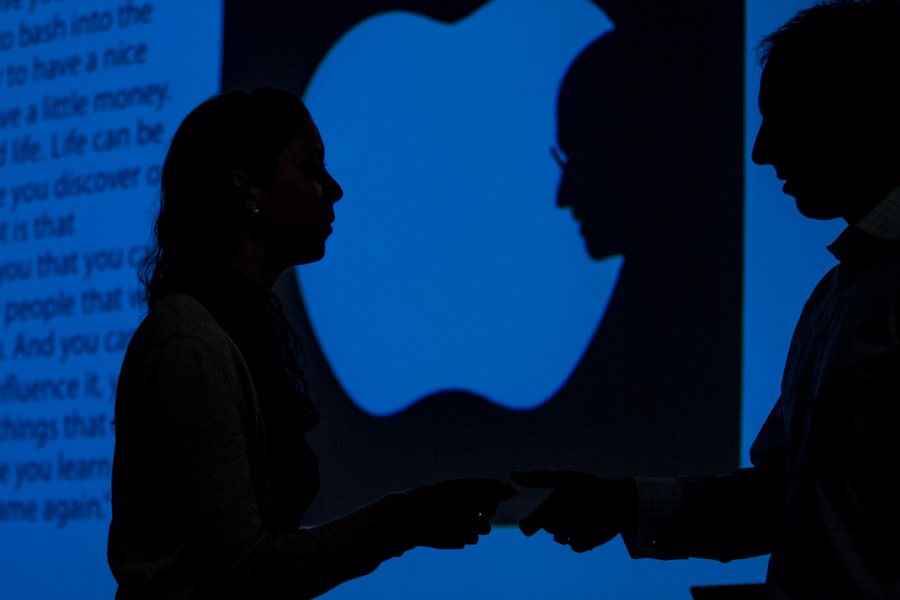 ---
Me and My Thoughts
"Students often study together, either craving companionship or collaborating on a class project. Other times they want and need to be alone. Caitrin Griffin '16 found both privacy and comfort on the second floor of Commons. Architects: Take note." — Phyllis Graber Jensen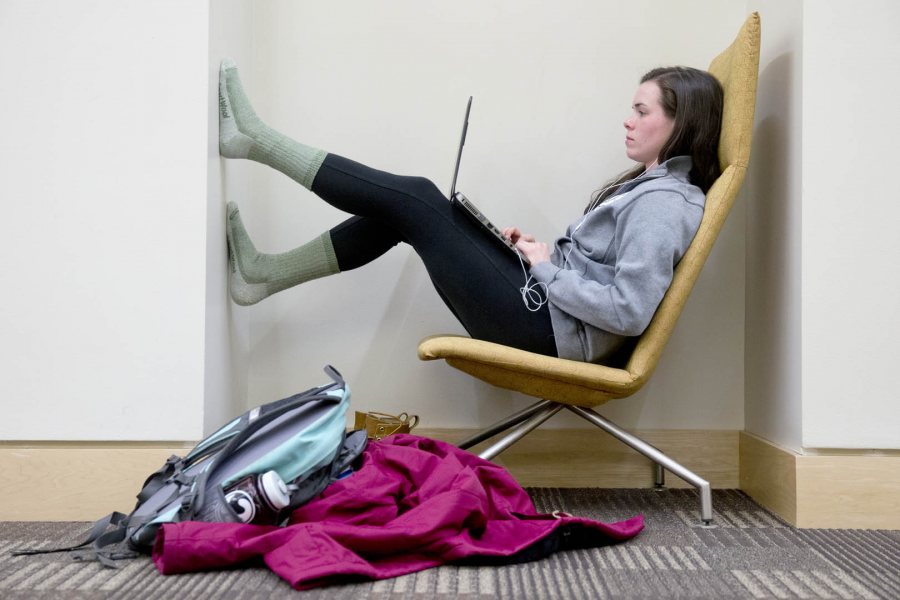 ---
Mapping the Brain
"Education professor Mara Tieken and Muna Mohamed of Lewiston High School talk about maps from an 1873 Atlas of Androscoggin County during a class session in the Muskie Archives. Intrigued by the historic wards in Lewiston, I peered at the pages and decided to use them as a frame for this moment." — Sarah Crosby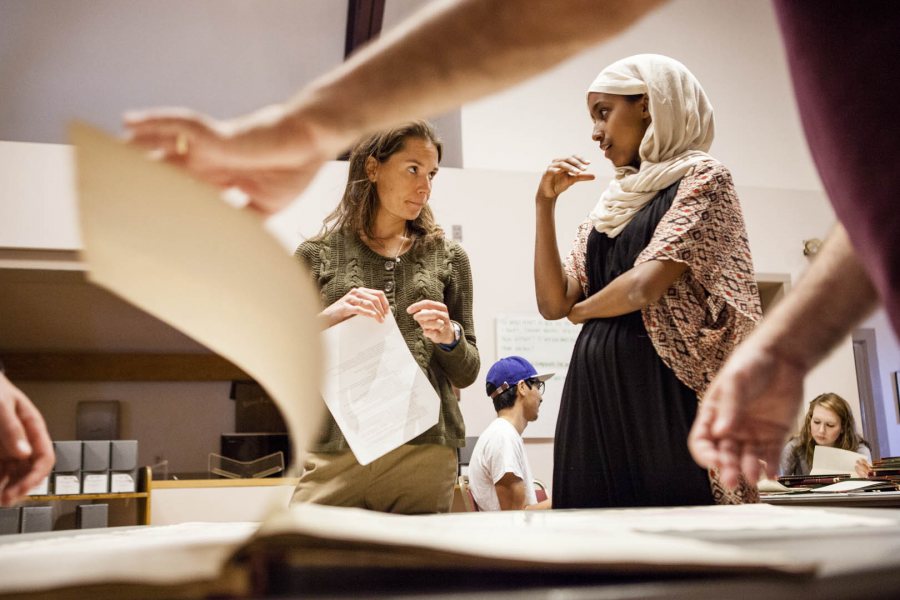 ---
Role Playing
"It's fun to put students in a non-Bates place out in the community. This was an evening activity at Auburn's Rollerdrome for student leaders who were on campus early, getting ready for the college's pre-orientation trips. Costumes and skills were optional, although almost everybody seemed to have some of both." — Phyllis Graber Jensen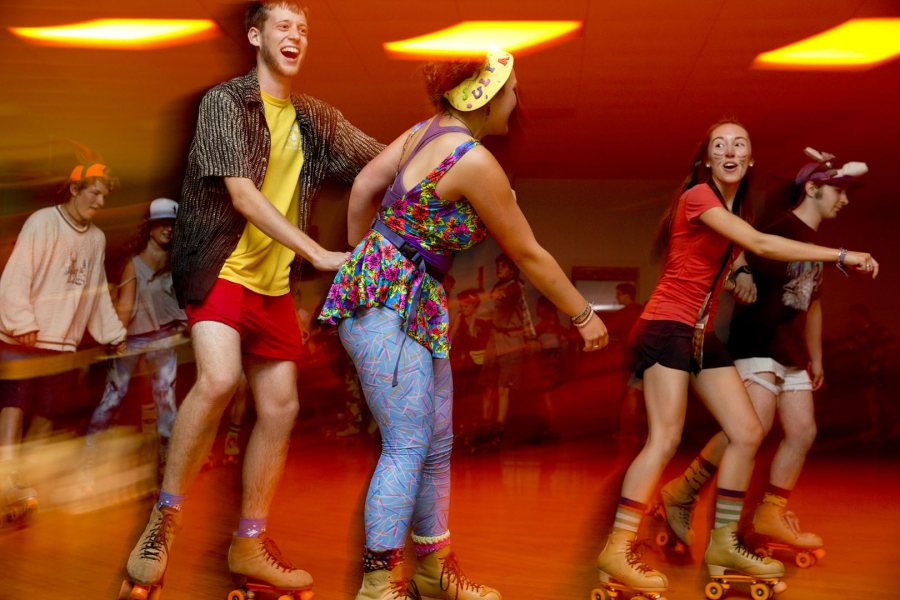 ---
Living on the Edge
"I look forward to challenging opportunities, like photographing Kwamae Delva '18 climbing as I dangled atop a cliff face at Rumney Rocks Climbing Area during an AESOP trip." — Sarah Crosby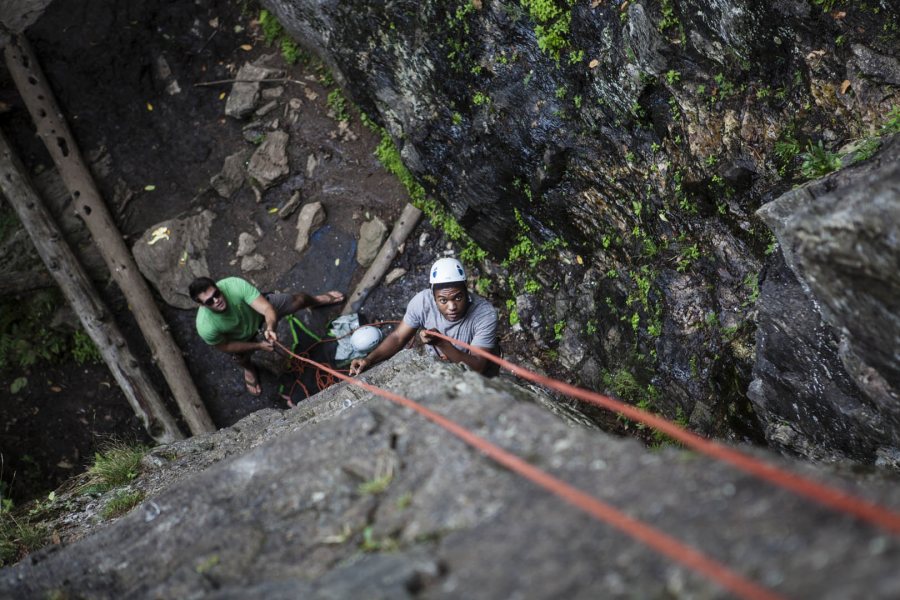 ---
Kirk Response
"'There but for the grace of God go I,'" said Kirk Read, professor of French and Francophone studies, referring to the paunch of a middle-aged Tintin statue in his Lane Hall office, where he is serving a term as an associate dean of faculty. Read's workplace is a curio shop that seems to represent the wonder and magic in his life." — Phyllis Graber Jensen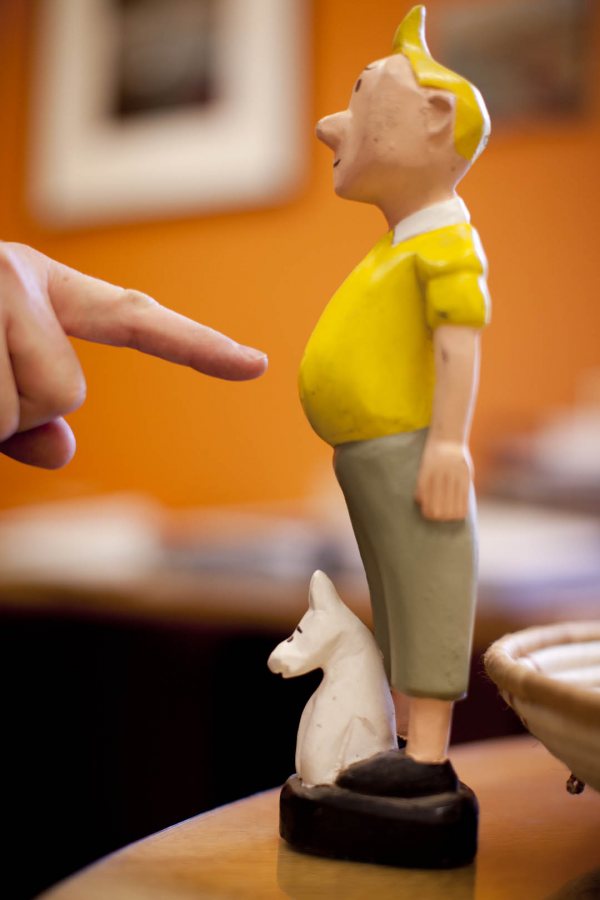 ---
Following Snow
"After glancing out the window while photographing an evening lecture, I was instantly drawn to this scene of the men's lacrosse team playing on Garcelon Field as massive snowflakes poured out of the sky. As melted snowflakes dripped down my face and blurred my vision, I squinted through the viewfinder trying to capture something useable." — Sarah Crosby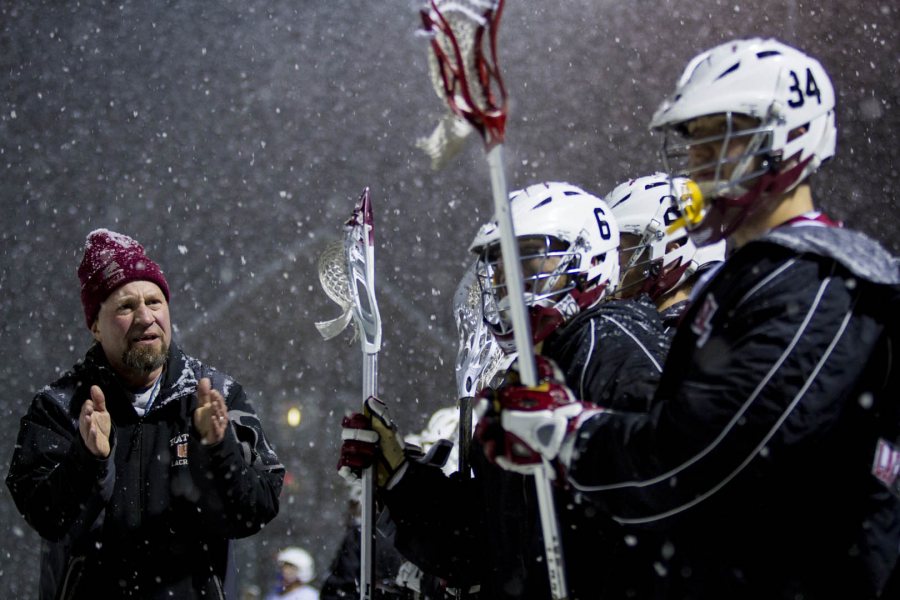 ---
Waste Not
"Environmental studies major Ben Pardee '15 interned at the Lower East Side Ecology Center's E-Waste Warehouse in Gowanus, Brooklyn. I quickly decided to photograph him in front of an arrangement of discarded recordings and was pleased to learn that Becky Culp '15, last summer's intern, had designed the display." — Phyllis Graber Jensen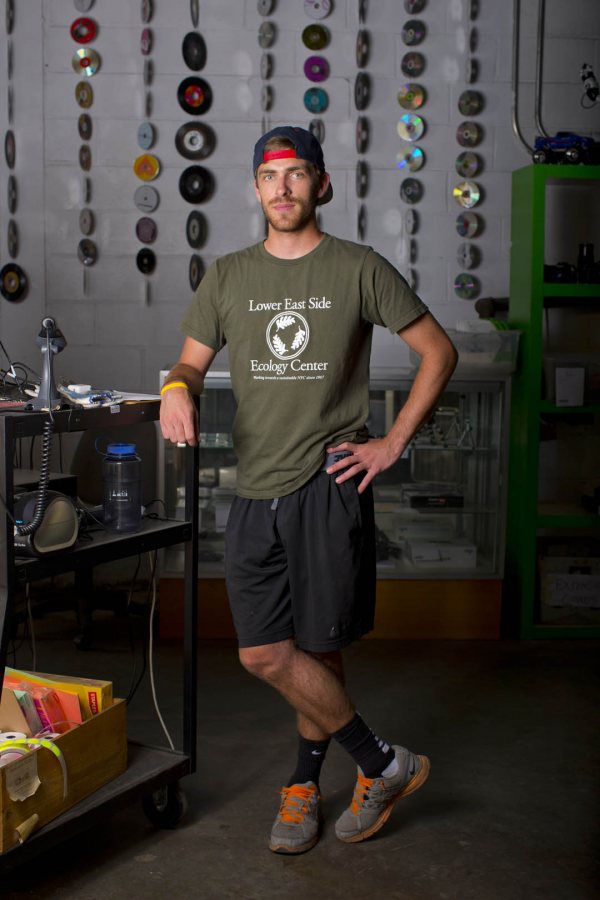 ---
The Taste of Decalf
"Being chewed on by a baby cow is a staple of any farm-tour experience. Kathryn Mulholland '14 would know." — Sarah Crosby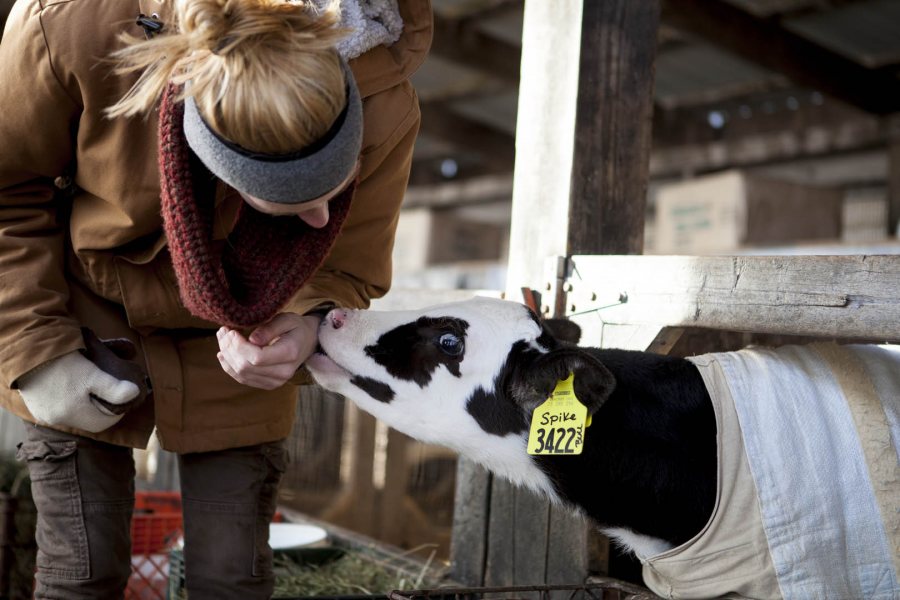 ---
When the Racquet Stops
"I love the short breaks between squash games because coach Pat Cosquer '97 uses those brief moments to motivate his players. And you're just as likely to see players offering advice and encouragement to teammates." — Phyllis Graber Jensen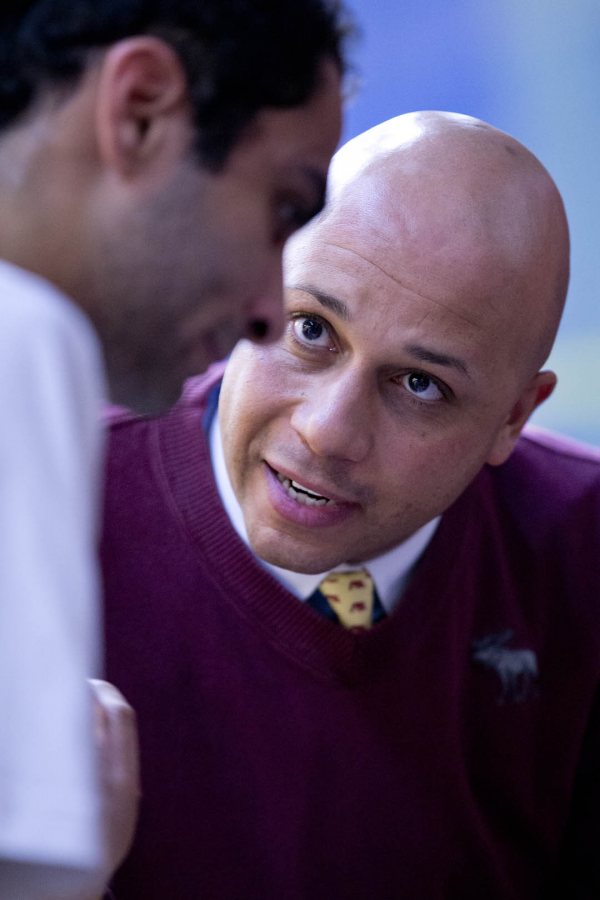 ---
With the Beat
"During The Chainsmokers' performance in Old Commons, Geoff Ryder '14 shot his hand in the air while vibing to the music. That was the moment I was looking for." — Sarah Crosby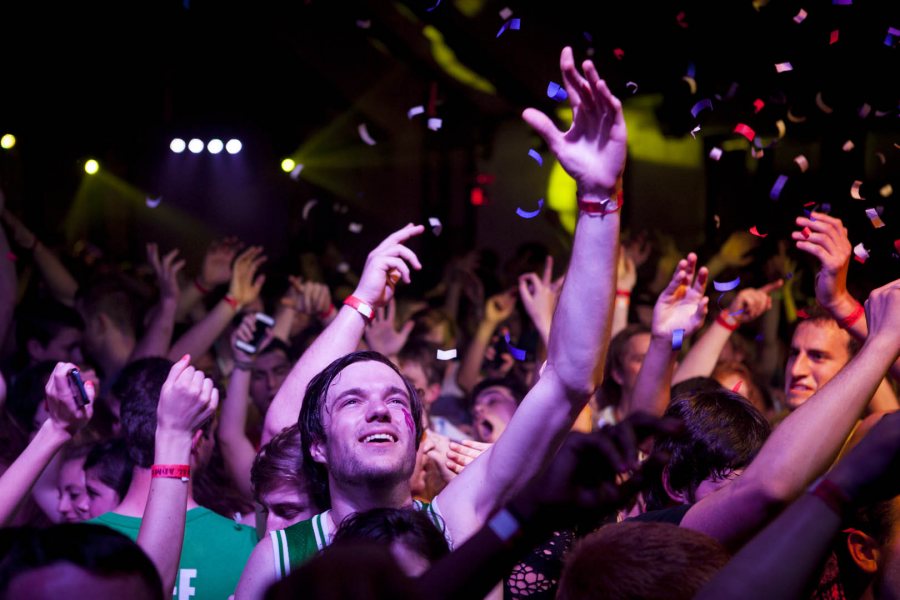 ---
Metatarsal Metaphysics
"For his senior thesis in theater, Gunnar Manchester '15 played a Vietnam War POW trying to survive alone in an underground cell. Up front and close during a dress rehearsal in the Black Box Theater, I couldn't take my eyes off his feet. They became the window to his soul." — Phyllis Graber Jensen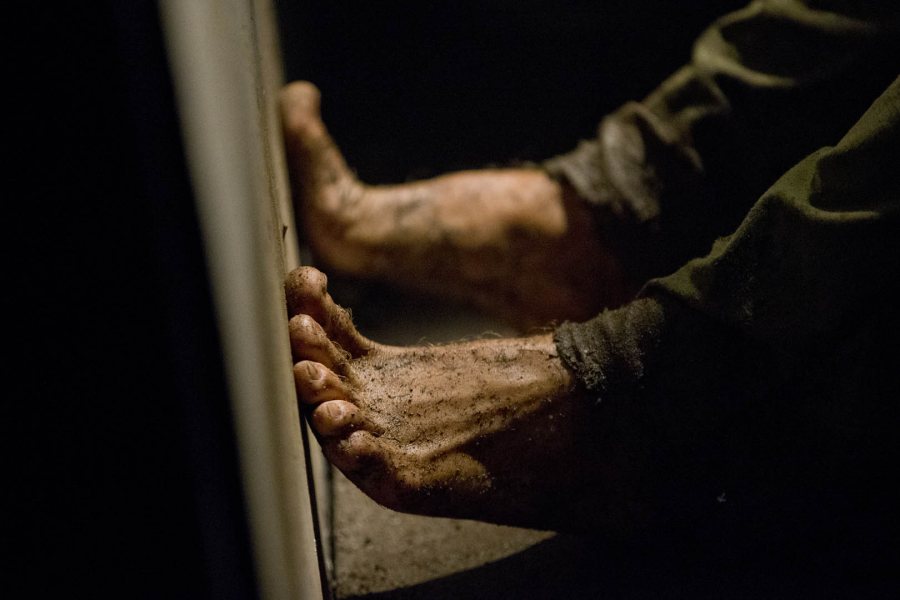 ---
Falling into Place
"This rugby play unfolded in front of me as I walked onto the field thinking about the best place to stand." — Sarah Crosby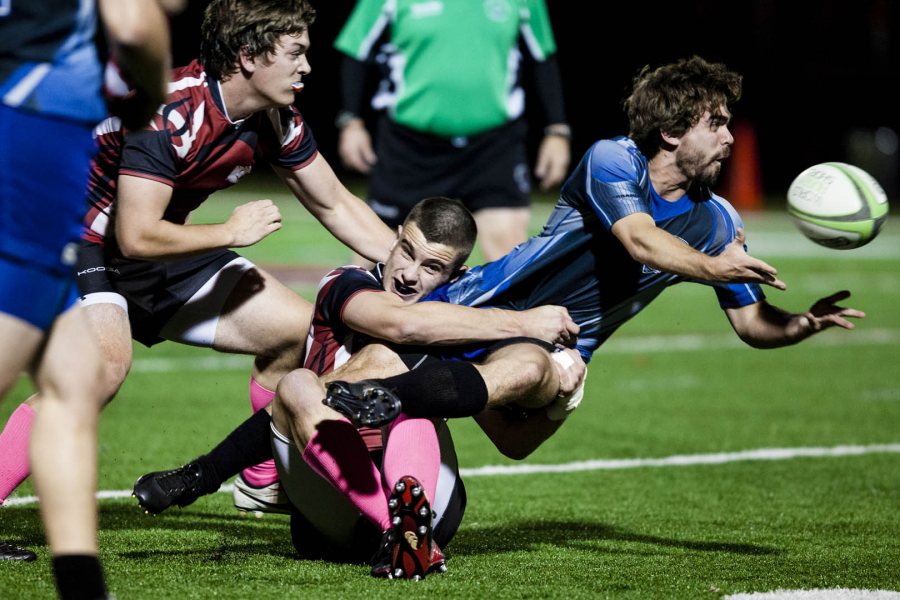 ---
Hugging at the Heart
"While picking up her cap and gown in Commons during graduation week, Brittney Davis '14 savored this moment with her friend Mary Hubbard, who is the Facility Services custodian for the Wood Street residence where Davis lived. As a photographer, I live for these unfiltered moments." — Phyllis Graber Jensen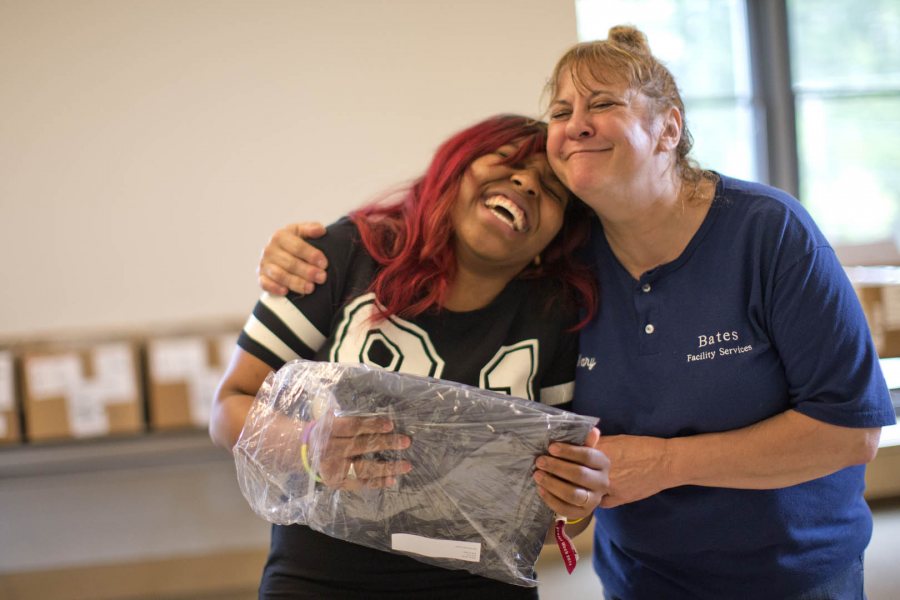 ---
Mind over Water
"The prospect of accompanying Dyk Eusden's 'Geology of the Maine Coast by Sea Kayak' class on a trip to Little Cranberry Island — photographing and filming from the cockpit of a sea kayak while paddling to keep up — was mildly intimidating. When I finally got on the water, I remember thinking 'this is absolutely, mindblowingly incredible. My dad is going to be so jealous when I tell him about my work day.'" — Sarah Crosby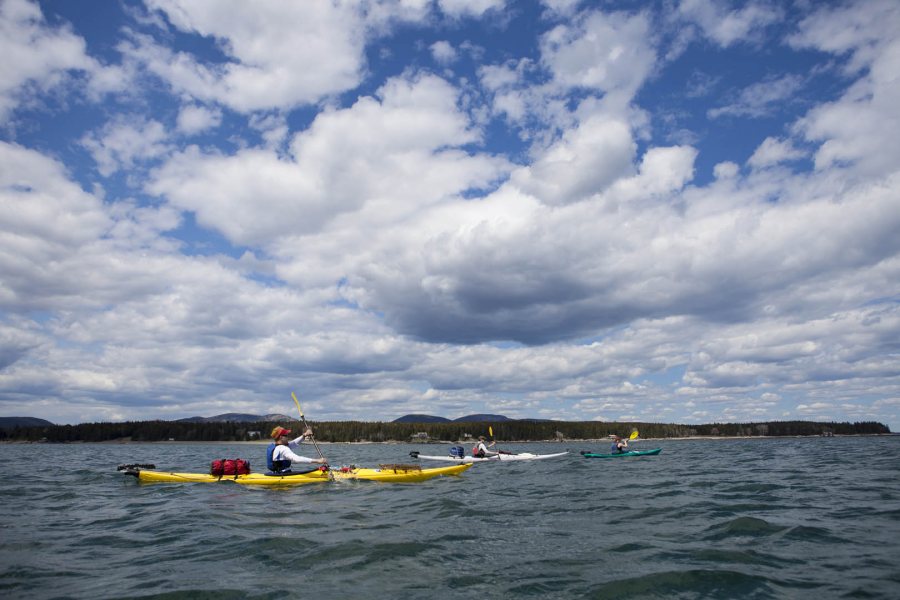 ---
Looks Can Be Intriguing
"On this quiet winter's day, I discovered a striking sight. Come to Bates. It's beautiful." — Phyllis Graber Jensen