Houchins, S. E.
Houchins, S. E.
Associate Professor of Africana
Africana 207-786-6436Pettengill Hall, Room 219
Gender and Sexuality Studies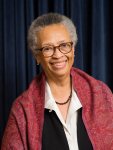 Sue Houchins, holds an appointment in the Africana Program and teaches courses cross-listed in Religion and Gender and Sexuality Studies. The topics of her research are at the intersection of race, gender, and sexuality and explore women of the Black Atlantic. Presently she is completing a book-length study of the representations of Black lesbians in texts drawn from the women's literatures of Africa and its Diaspora. With her colleague Baltasar Fra-Molinero, she is publishing for Vanderbilt University Press a translation with a critical and historical introduction of the eighteenth-century Spanish hagiography of Sor Teresa Chicaba, an African woman who spent her years after enslavement in a Dominican cloistered monastery. Currently she is the co-director of the archives of southern African author Bessie Head and of the Khama Papers in the Khama III Memorial Museum, Serowe, Botswana.