Distinguished Service: Tom Tracy
On June 9, 2017 Tom Tracy was given the College Key Distinguished Service Award at the Annual Meeting of the College Key at Reunion.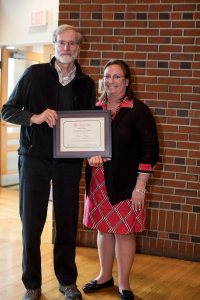 Phillips Professor of Religious Studies, Tom Tracy, has taught students at Bates College for the last 41 years. I am sure that at least a handful of us in this room have had the good fortune of learning from you in your classroom. It's not even an understatement to say that Tom has touched the lives — and minds — of thousands of Bates students. While at Bates, Tom's research has focused on issues in philosophy of religion and theology, and on topics in applied ethics, particularly medical ethics and the morality of warfare.
Professor Tracy's published work has dealt with philosophical questions raised by the classical conception of God in Western religions. He has written on the problem of evil, on the concept of God as an agent who acts in the events of history, and on the relation between these classical issues in philosophical theology and contemporary developments in the natural sciences.
Professor Tracy, for your over four decades of service, and your guidance of countless students and collegiality with your peers at Bates, we award you with the College Key Distinguished Service Award for 2017.