Dhingra, Lavina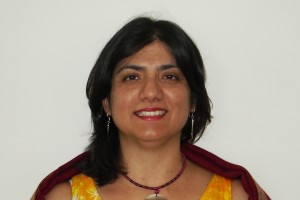 Lavina Dhingra teaches courses in Asian American Women Writers, Filmmakers, and Critics, Literatures of South Asia, Postcolonial literatures and Theory. In addition to Asian Studies courses, she also teaches Feminist Literary Criticism, Modern British literature, Modern Short Stories, and a short term unit in Socio-cultural Approaches to Children's Literature that incorporates service-learning.
Professor Dhingra is the contributing co-editor of the multidisciplinary essay collection A Part, Yet Apart: South Asians in Asian America (Temple University Press, 1998). This controversial book, which challenged the existing paradigms of the field of Asian American Studies, was nominated for the Best Book Award in Cultural Studies by the Association for Asian American Studies, and led to invited lectures at varied institutions including Harvard, Brown, Colby, Michigan, Connecticut, Illinois, Visva-bharati (India), among others. She has published essays in journals including Amerasia Journal, LIT: Literature, Interpretation, Theory; Journal of Asian American Studies; Hitting Critical Mass; and several collections including South Asian Novelists in English: An A to Z Guide (2002), Postcolonial Theory and the US: Race, Ethnicity, and Literature (2000), Teaching What You're Not: Identity Politics in Higher Education (1996), Multiculturalism and Representation (1996). She is currently working on a book manuscript on South Asian American women's literature, and is collecting oral narratives of pre-1950 Indian immigrants to the US.
Dhingra has been elected to national offices within the Modern Language Association (MLA), and has co-authored an MLA policy statement on "Guidelines of Good Practices" for the Recruitment, Retention, and Evaluation, of Junior Faculty of Color (published in Profession 2002). She has been elected Chair of the MLA Division on Asian American Literature (2002); Co-Chair of the MLA's Committee on Literatures of People of Color in the US and Canada (2001-02); representative for "Women in the Profession" at the MLA's Delegate Assembly (2000-03); and Chair of the Membership Committee, South Asian Literary Association (2002).