Bobcat Express Program (Fall 2020)
IMPORTANT NOTICE THAT CHANGES HAVE BEEN MADE FROM PREVIOUS: Bobcat Express transportation services which are available to assist student needs will be operating on a different schedule and with certain limitations following a different protocol with respect to local, state, and national guidelines pertaining to the COVID-19 global pandemic. See also the overriding TRANSPORTATION POLICY for Fall 2020.
Changes have been made to the Bobcat Express transportation services for Fall 2020 as we continue to operate in the changed environment, or "new normal" relating to the COVID-19 global pandemic. No more than (6) passengers will be permitted in the vans. The center seats of the seating rows have pool noodles belted in to deter use. No front seat passengers are allowed. Masks are to be worn at ALL times riding in the vehicles. Expect that the windows will be down for enhanced airflow and ventilation, unless precipitation makes that impractical.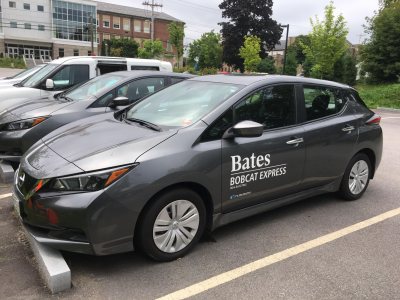 A bus is being chartered through NORTHEAST Charter services to transport students between the hotel dorm room accommodations and campus. The actual bus used may change from day to day (white bus, yellow bus, charter bus); be on the lookout for the NORTHEAST Charters Inc branding on the bus…
The bus service will run Monday – Friday for the entire Fall semester period; beginning on Tuesday, August 25, 2020, and will continue through Wednesday, November 25,2020.
The bus service will begin each day by picking up at hotel(s) at 6:45a, and will operate in a continuous circuit route between the hotel(s) and campus until 5:00p. The bus pick-up and drop-off location on campus will be in front of Chase Hall, on Campus Ave. This chartered bus service will be the primary assistance for transporting students between the hotel accommodations and campus during its hours of operation. Beginning at 6:45a until around 8:30a, the bus will load with ready passengers and make rapidly repeating runs and returns, with the primary focus being bringing students from the hotel to campus and no wait time at campus before return. If the bus has left, it will return in a short turnaround time. Bobcat Express vans will also make every effort to assist in the morning student commute to campus. Sometime around 8:30a, the bus will run on every half hour from one point to the other in rotation.
After 5:00p, and on weekends, Bobcat Express transportation will have van(s) service available for transportation to the hotel(s). These shuttles will run Monday – Friday until 11:00p, and Saturday – Sunday from 8:30a – 10:00p. The van shuttle pick-up and drop-off location on campus will be at the loading dock of Chase Hall (Franklin St extension).
Student dispatchers will not begin their service until Labor Day week. Until then, necessary calls should be made through Campus Safety dispatch (786-6254), if the Bobcat Express van is not found standing readily available outside the loading dock area of Chase Hall.
The Bobcat Express is still available to students for rides to various locations in close local radius for community engaged learning programs. Students who are participating in those programs will be required to go through an approval or oversight process due to the circumstances of the pandemic. Bobcat Express will be working closely in conjunction with contacts at Harward Center in an effort to identify and schedule any of those essential appointments.
The Bobcat Express provides safe and convenient transportation for Bates students. This free shuttle service is also available to students for Doctor's and Medical appointments, prescription pick-up, and appointments by filling out a Reservation Request Form. Reservations need to be made in advance, and the client should expect to receive a calendar confirmation for that reservation. IMPORTANT NOTE: The Bobcat Express transportation service does NOT provide rides going outside the local area to Portland airport. Students should make those arrangements through outside commercial transportation vendors.
The Bobcat shuttle picks students up right outside of Chase Hall at 56 Campus Avenue. The Bobcat Express vehicles will stage from the loading dock area of Chase Hall (Franklin St side) where there is a roof over to provide shelter for those waiting during weather; unless there is a medical condition preventing you from walking to Chase Hall, then the shuttle will pick you up at your current location.
During the weekdays, while the charter bus is running service between hotel-based residence accommodation and campus, the service learning engagements and those medical related reservations will take precedence with Bobcat Express vans. This service is not intended to be used as a convenience for providing rides across campus (a medical necessity being the exception). The "Safe Ride" program which Campus Safety has provided in the past using vehicle transports will be suspended this semester in order to limit any unnecessary risk of virus transmission. Campus Safety will still respond to provide walking escorts if there is a communicated concern for safety.
For students who may wish to go to Walmart and other stores in the Auburn area for shopping during weekdays, the local Citilink public transportation has pick-up/drop-off stops directly on campus (corner of College St and Campus Ave, and at the Quad and by Cheney House). The Quad bus stop on College St provides a direct run to Walmart, picking up on campus promptly at 19 minutes after the hour, and later returns to Bates from Walmart, picking up at Walmart promptly on the hour. There is a student rate of fare which makes this service an affordable option. The citilink bus operates 6:00 am – 6:00 pm on a fixed schedule during weekdays, and 9:00 am – 4:00 pm on Saturdays.
Bobcat Express shuttles will be available during the new standard hours (Monday – Friday, 7:00a – 11:00p; Weekend, 8:30a – 10:00p) to provide transportation to shopping at limited destinations by advance reservations which are worked into the shuttle route. (Informational webpage and reservation form is currently in process, and link will be added to this page when completed). There will be limits placed of only one such reservation per hour, and outside the peak meal service times. Those using the express service should communicate with the driver their anticipated return pickup; the driver may dictate perimeters according to service schedule.
Weekday calls relating to the Bobcat Express services are directed to call (207) 786-8300.