Field Hockey Gears Up For The 2016 Season

Season Preview
The 2016 season is underway, and we are excited to be back in action. The 2015 season was the program's most successful in a decade. The competitive fire the team built last year is growing stronger with the addition of 10 new Bobcats who will join an already tremendous group of returners.
There is a strong core of returners for the 2016 season, highlighted by several players who have garnered several accolades in previous seasons. Anchoring the midfield is one such player, junior Caroline O'Reilly. O'Reilly has started every game since joining the team for the 2014 season, and has been twice named to the NFHCA All-Region team for her efforts. Also earning All-Region accolades in 2014 is classmate Delaney Nalen, who has been a staple in the Bobcat's defense, starting 29 of 30 games in her career. She has nine defensive saves to her name, one of which came in Bates 1-0 win over nationally ranked No. 9 Babson last season.
Also returning is a strong sophomore class, six of whom contributed huge minutes in their first-year debuts. Three of these returning sophomores — Adah Lindquist, Shelbie McCormack, and Emma Patterson — started every regular season game of the 2015 season. Lindquist made a memorable mark with her game-winning goal in Bates' 1-0 victory at Colby to clinch a spot in the NESCAC Tournament for the first time in five years.  
Joining the Bobcats in 2016 will be 10 first years.  Allinson Brinkhaus (Needham, Mass.), Grace Fitzgerald (Larchmont N.Y.), Abigail Ford (Wells, Maine), Isabel Garcia-Moreno (Baltimore, Md.), Alexa Jurgeleit (Barrington, R.I.), Alexandra Leahy (Cohasset, Mass.), Victoria McGee (Scarsdale, N.Y.), Hannah McLane (Darien, Conn.), Alyssa Souza (Scarborough, Maine), and Micha Van der Lee (Haarlem, Netherlands).
So who are these new faces?
Brinkhaus comes to Bates as the MIAA leading scorer, All-Scholastic, All-Conference, and Conference MVP. Fitzgerald arrives at Bates after winning the New York State Class A Championship as an All-Elite and All-League contributor. Ford was named to the All-State team after leading her team to its first-ever Western Maine Championship game in 2015. Garcia-Moreno was her high school's team captain in 2015 and a member of the USA Field Hockey Futures program. Jurgeleit is a two-time All-State selection and team captain for her high school team. Leahy finished her high school career as a two-time captain and with an outstanding senior season, scoring 22 goals with 19 assists. McGee comes to Bates with a long list of accolades, including being a two-time selection for USA Field Hockey National Futures Championship. McLane arrives from Connecticut powerhouse Darien, where she contributed to their 2013 and 2015 FCIAC Championships. Souza, a goalkeeper, helped her high school team capture a Class A State Championship in 2014 as the starter in net. Finally, to round out the Class of 2020, Van der Lee comes from the Netherlands, where she plays at the IDC Poule first division AA national level.
We are excited about the work all of our returners and first-years have put in. They have spent hours thinking critically about their roles, their strengths, and how to continue our upward trend. They are determined as a group to be their best, and they are sure to make a thrilling 2016 season.
Come Catch a Game
Mark your calendars — the 2016 season is just days away! We cannot wait for our inaugural season on our brand new GreenFields TX turf field. Bates and our Athletic Director, Kevin McHugh, have shown how much they believe in what this program is capable of by investing in the new field, and we look forward to hosting eight home games this year.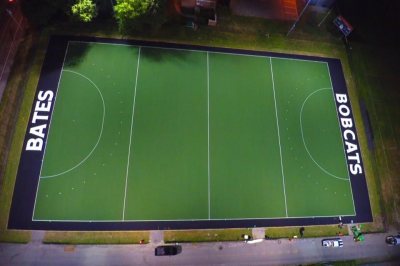 Our season opens against non-conference opponent Worcester State University on Tuesday, September 6, at 5 p.m. We then turn around and open NESCAC play against Hamilton College on Saturday, September 10, at noon. You'll have several other opportunities to witness the Bobcats in action on Campus Avenue field as they play a back-to-back weekend again Wesleyan (Conn.) University and Williams College the weekend of September 24–25. The Bobcats will host four games in October, including two non-conference contests against Endicott College and the University of Southern Maine. Connecticut College and Colby College will wrap up regular season NESCAC home play.
We know that our alumnae and parents are very involved in their work and communities, and so if you cannot watch us live at home, look for us on the road this season or watch our games streamed live.
As a special thank you to all of our alumnae and supporters, we will be doing a team/alumnae tailgate after our game against Tufts University on Saturday, September 17! We know there is a large population of alumnae and supporters in the Boston area, and we want to give you the opportunity to not only enjoy a game, but also come meet the team afterwards. If you plan on attending please email Head Coach Dani Ryder so we can have an accurate headcount of those attending.
Don't forget to mark your calendars for the 2016 Bates Field Hockey schedule —  it's going to be an exciting season
Back to Bates Weekend
We all know that fall is a special time in Maine. From seeing the leaves turn, to visiting the orchards and enjoying a cup of apple cider and a warm apple donut, the simple pleasures of the season are things that you cherished during your time at Bates. That's why there is no better time than Back To Bates: Homecoming & Family Weekend Oct. 7–9 to come to campus, stroll down memory lane, and enjoy a game along the way. Bates will play at home against Connecticut College on Saturday, October 8, at noon.
Come enjoy the game and take part in a special alumnae tailgate hosted by Friends of Bates Athletics and Bates Field Hockey to commemorate our new turf field, and say thank you to those who continue to support the program.
We hope to see you there!
2016 Goal Club
We want to thank all the families and alumnae who participated in our inaugural Goal Club last season. We had an excellent response and look forward to an even more successful season and Goal Club in 2016. Your contributions allowed the program to add additional resources that will help the program continue to succeed.
If you are new to the Goal Club, it is a fun way to donate directly to the field hockey team, based on the successes of the field hockey program. Your gifts help the team get ahead of the competition with the best equipment, strength and conditioning programming, and much more!
Find out more about our 2016 Bates Goal Club. We hope you are up for the challenge! Please feel free to send a little inspirational message with your pledge that we can share with the team. GO BOBCATS!
Coach's Closing Remarks
In closing, I would like to thank both past and current supporters of the Bates Field Hockey program. There is always a long list of announcements to share about what is new with the program, but without what has come before us, and the support of you all, the 2016 season would not be possible. I hope you enjoy watching the team compete this year and share in our success!
All the best,
Dani Ryder
Head Coach, Bates Field Hockey