Taking Care Of Your Mental Health During Remote Learning
Keeping calm is no small task. Remember, emotions can be contagious too! When you protect your mental health, you help yourself and your community.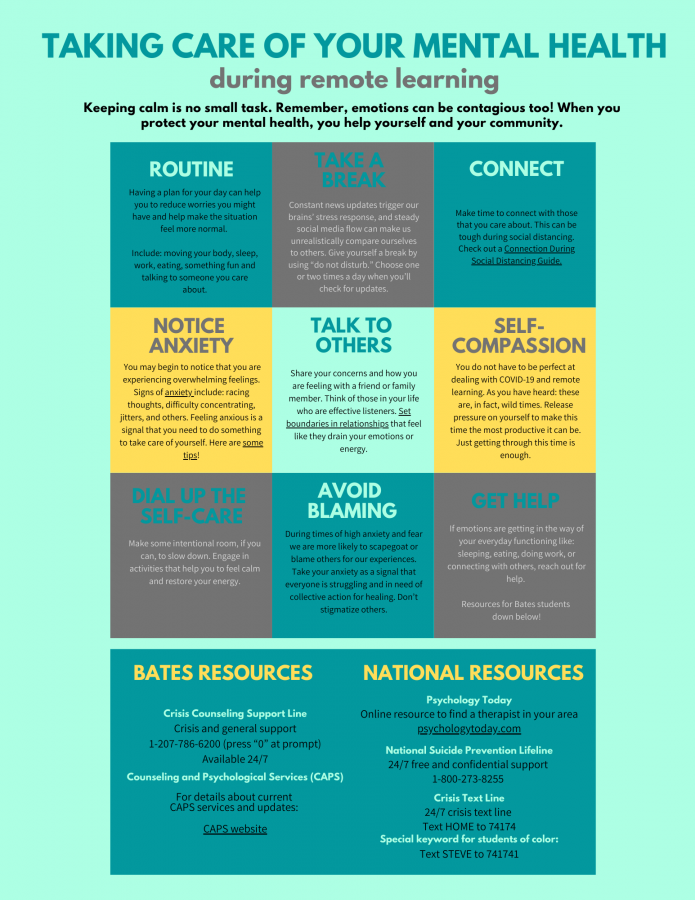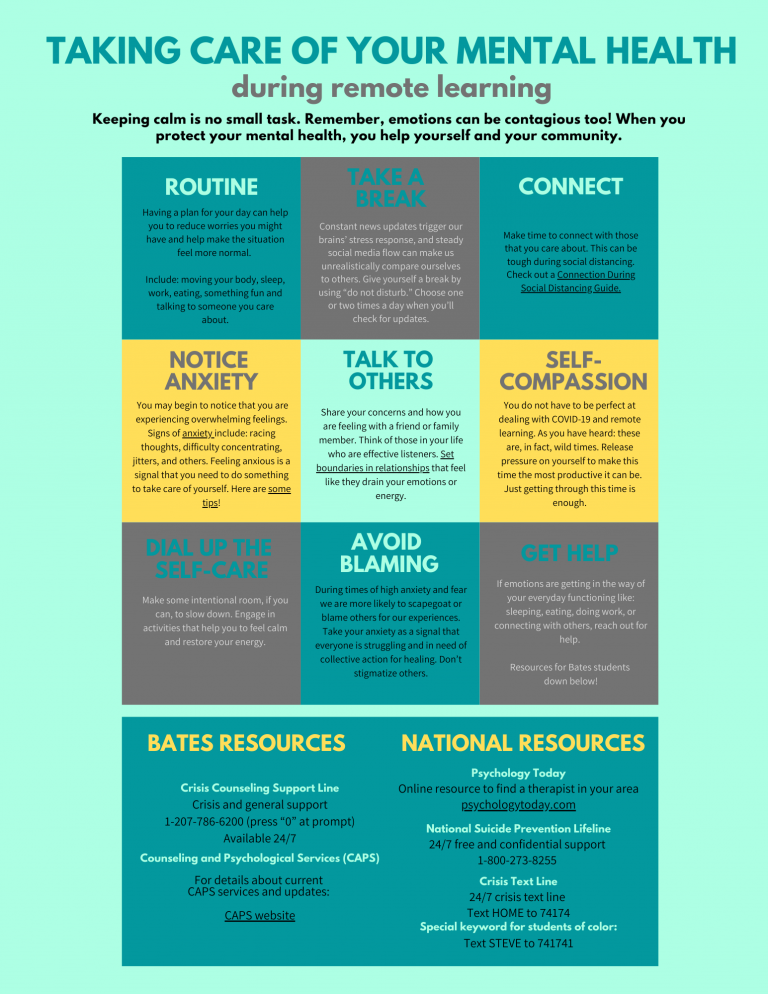 Routine
Having a plan for your day can help you to reduce worries you might have and help make the situation feel more normal. Include: moving your body, sleep, work, eating, something fun and talking to someone you care about.
Take A News Break
Constant news updates trigger our brains' stress response. Give yourself a break by using "do not disturb." Choose one or two times a day when you'll check for news updates.
Connect
Make time to connect with those that you care about. This can be tough during social distancing. Check out a Connection During Social Distancing Guide.
Notice Anxiety
We all will feel anxious. Signs of anxiety include: racing thoughts, difficulty concentrating, jitters, and others. Feeling anxious is a signal that you need to do something to take care of yourself. Here are some tips!
Talk To Others
Share your concerns and how you are feeling with a friend or family member. Think of those in your life who are effective listeners. Set boundaries in relationships that feel like they drain your emotions or energy.
Self Compassion
You do not have to be perfect at dealing with COVID-19. These are, in fact, wild times. Release pressure on yourself to make this time the most productive it can be. Just getting through this time is enough.
Dial Up The Self-Care
Make some intentional room, if you can, to slow down. Engage in activities that help you to feel calm and restore your energy. You're expending more energy than you think you are right now.
Avoid Blaming
During times of high anxiety and fear we are more likely to scapegoat or blame others for our experiences. Take your anxiety as a signal that everyone is struggling and in need of collective action for healing. Don't stigmatize others.
Get Help
If emotions are getting in the way of your everyday functioning like: sleeping, eating, doing work, or connecting with others, reach out for help. Resources for Bates students down below!
Bates Resources
Crisis Counseling Support Line
Crisis and general support
1-207-786-6200 (press "0" at prompt), available 24/7
Bates Counseling and Psychological Services (CAPS)
For details about current CAPS services and updates:
CAPS website
National Resources
Psychology Today
Online resource to find a therapist in your area
Psychologytoday.com
National Suicide Prevention Lifeline
24/7 free and confidential support
1-800-273-8255
Crisis Text Line
24/7 crisis text line
Text HOME to 741741
Special keyword for students of color – Text STEVE to 741741
Checkpoint
International Mental Health Resource Guide
www.checkpoint.org/global
With thanks to Middlebury College, Office of Health and Wellness Education, for use of content
Informed by: Montclair State Take Care of your Mental Health, and NYTimes 10 Ways to Ease Your Coronavirus Anxiety