Gradebook: Initial Setup
Configuring the gradebook, or "Grader report," in Lyceum is a straightforward process that provides students with a convenient resource for determining their performance on both individual assignments and in the course as a whole.
In this example, we'll configure the Lyceum gradebook according to the following criteria:
25% – Attendance & Participation
20% – Midterm Exam
25% – Final Exam
30% – Research Papers 1 & 2
1. To begin, you need to create a place holder in your gradebook for each assignment (or "item," according to Lyceum's nomenclature). To do this, you must add all items that are to receive a grade on your course's home page. Even items that are not submitted to Lyceum for a grade, such as Attendance & Class Participation, need to be added as an assignment (you do, however, have the option to hide these items from student view). All grade items created as assignments on your course's home page will be automatically added to your gradebook, where you can organize them into categories, assign their weight and record their grade.
2. Once you've added your items as "Assignments" (via the "Add an activity. . ." menu), open the gradebook by clicking on "Gradebook setup" under the larger gear icon in the upper right.
3. The "Gradebook setup" page allows you to configure your gradebook by weighing your grade items and categories according to your grading rubric. At this page, you should see a list of all the grade items (or Assignments) you have added to your course.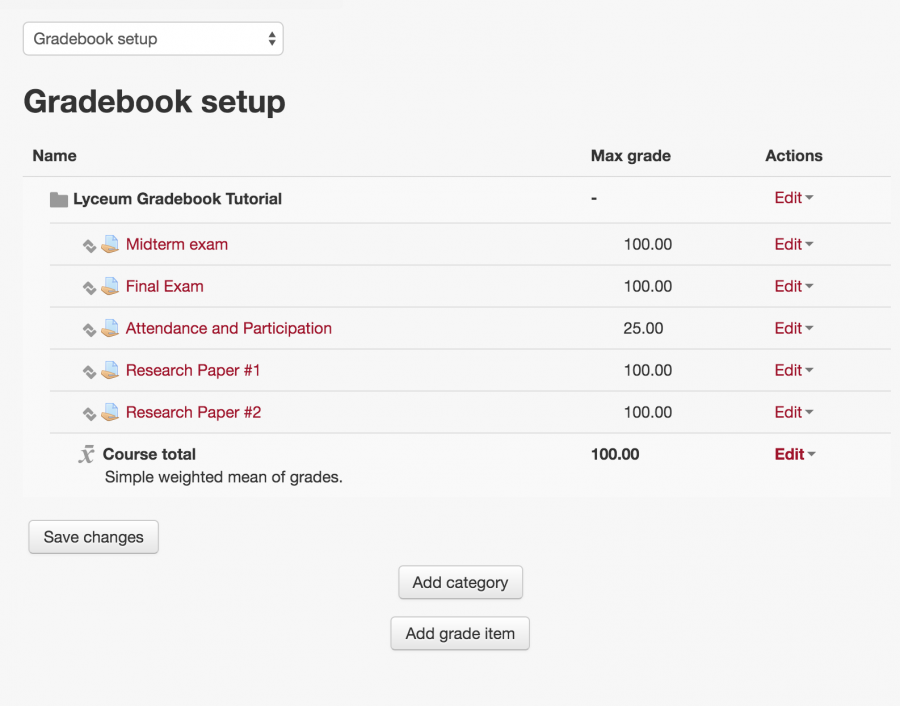 4.  Once all the grade items have been added, you can group then into "categories" as necessary. In this example, Research Papers #1 & #2 belong to the same category, so we'll add a new category called "Research Papers" by clicking on "Add category," providing the necessary information, and clicking on the "Save changes" button: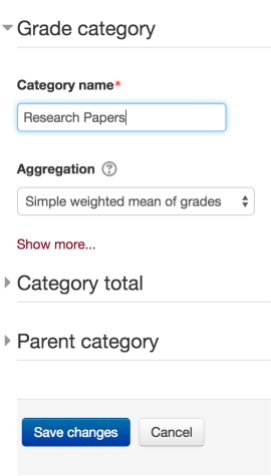 For most categories, including this example, the default "Aggregation" selection, "Simple weighted mean of grades," will suffice. (More information about grade aggregation can be found at: https://docs.moodle.org/31/en/Grade_aggregation).
5. After creating a "category", you need to group items under it. To do this, check the appropriate items in the "Select" column, and then choose the appropriate category in the "Move selected items to" drop down menu.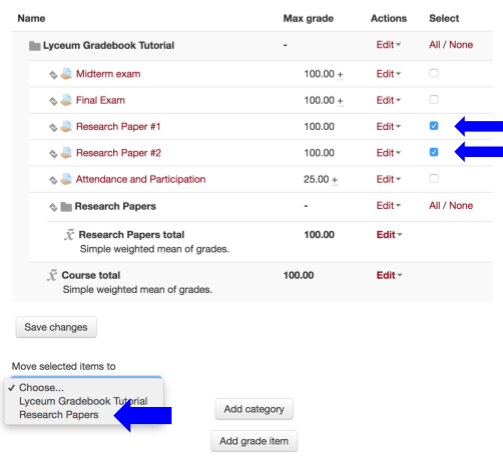 6. Once you have created the necessary "categories" and associated the items to them, you can assign a weight to the items and categories. First, however, you need to change the "Aggregation" settings for the entire gradebook. At the very top of the the "Actions" column, click "Edit" and select "Edit settings." Note that this menu will also allow you to hide individual grades from students.

7.  On the page that opens, select "Weighted mean of grades" in the Aggregation list. Now save your changes to return to the previous page.
8. You should see a new column, "Weights," where you can weight the grade items and categories according to your evaluation structure. Your weights have to add up to a total of 100. After you have entered your weights, be sure to click the "Save changes" button at the bottom of the page.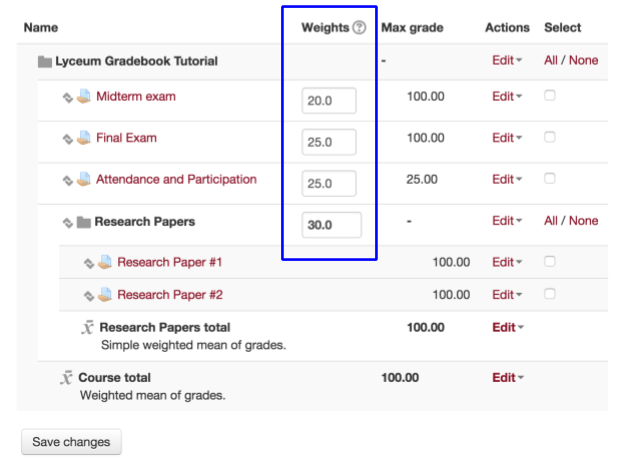 Note that the the "Max grade" for each item or category does not have to equal 100. Moodle does all the calculations for you provided that you have weighed everything appropriately.
You are now ready to enter your grades.
** For more detailed information on configuring your gradebook, including advanced grading methods, follow this link: https://docs.moodle.org/31/en/Grader_report