Lyceum Messaging
Instructors and students can have real-time discussions using the 'Messaging' feature in Lyceum. Messaging can only be between participants who share the same courses in Lyceum. You can access the Messaging environment from its icon in the upper right corner of Lyceum.

Its features include:
Search
This field allows you to search and message with other users that are enrolled in the same courses as you. Note you will not be able to find a user who is not enrolled in one of your courses.
Contact List
This feature allows you to send a request to a user to be added to your contact list. This is particularly convenient for those who message with certain users more often than others. This will also hold a 'Request' section, where other users' requests to be added to your contact list will be placed. Note that if you do not want students to message you, add no one to your contact list (see the 'Privacy' section below)
Private Messages
This feature allows you to message with only one other user, making it private between the two of you. Note that this is only available for those who are enrolled and share a course together
Group Messages
This feature allows you to have multiple users in a conversation at once. Note that groups will only show if you are grouped in your Lyceum course. Students will not be able to create their own groups. Once an instructor has created groups within their Lyceum course (tutorial forthcoming), students have the option of messaging within their respective groups. If a student has multiple groups they're in different courses, those groups will show the courses name below the group title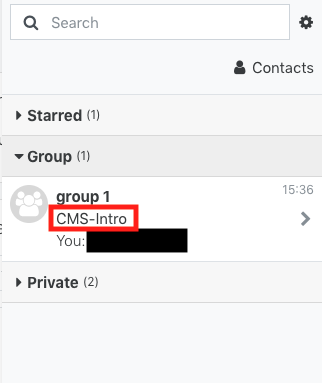 Starred Messages
This feature allows you to pin or 'star' a private and group message. This will then group all of those particular messages in one area.
Settings
To customize the settings of your message menu, select the gear next to the search field

Privacy – allows you to restrict who can send you messages. The options include those who are only on your contact list or those form your contact list and anyone within your courses. Select the 'My contacts only' box if you would like no one (if you contacts list in empty) to be able to email you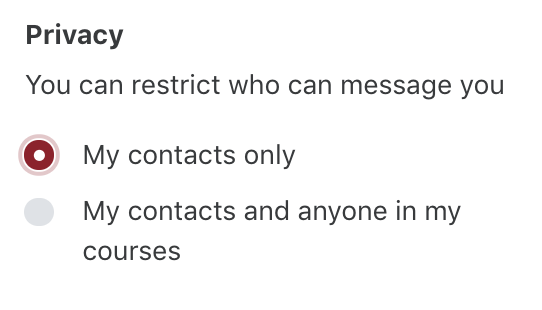 Notification preferences – as a default, you will receive email notifications if you are offline and a user messages you. You can deselect this option if you would like to opt-out
General – as a default, the user can either select the 'send' icon to send a message or press the 'return' or 'enter' key. Deselect this if you would like to only be able to send messages by the 'send' icon. This is a good option for those who would like to create paragraphs within their messages
Creating/Sending a Message
Message Settings
Within a message, you will see a '…' settings icon to the right of the name of your message. The message settings include:
The ability to block a user or group message
Add a user to contacts
Mute a private or group conversation
Star a conversation
Delete a conversation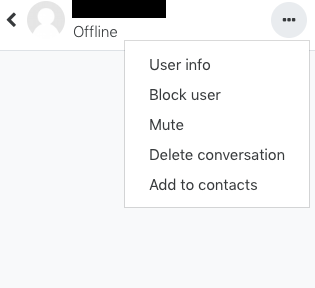 Note that 'Group' messaging will only allow you to view the other participants within the group by 'Group info', mute the conversation and star the conversation