Gazette
A media-rich course news organ produced by students in the French Department of Bates College. Students write and produce their own news reports, product advertisements, and interviews in streaming video. They write film and book reviews and publish artwork for critique.  They can also participate in a 'sob sister' advice column, share a favorite recipe, record a local French-speaking resident, or contribute to a live glossary of terms.
Gazette assignments are fully interactive: students may comment on published content as well as elicit live feedback from their French instructor.
Continually expanding since its inception in 2006, the Gazette has become a mainstay of the second-year French language program.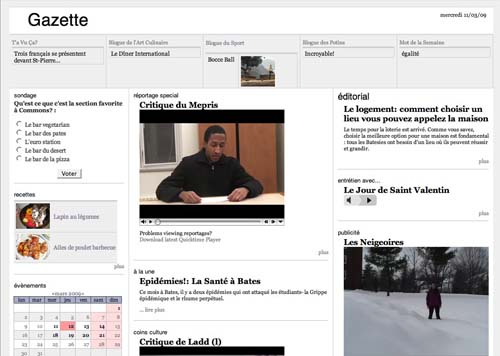 link to live project:
http://ats.bates.edu/gazette
implementation details:
CRC customized the blog and designed the interface for ease of student use. We targeted a range of different interactive content types to elicit various linguistic skills from the participating students.