The Seawall Beach Project
The Seawall Beach Project provides an ongoing update on coastal geologic research conducted at Seawall Beach and adjacent areas in Phippsburg Maine by faculty and students in the Bates College Geology Department. Seawall Beach, the largest undeveloped barrier beach system in Maine, is part of the Bates-Morse Mountain Conservation Area, a six hundred acre coastal property managed by the college for educational purposes and scientific research in coordination with the Nature Conservancy and the St. John family. The Bates Morse Mountain Conservation Area also works in collaboration with the Small Point Association, whose mission is to preserve the wild, unspoiled character of the beach, its ecology, and its endangered species habitat.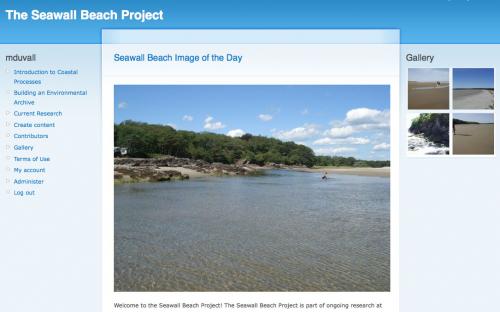 link to live project:
https://ats.bates.edu/seawall/
implementation details:
The project is a collaboration between students and faculty in the Geology Department and Curricular and Research Computing (CRC). CRC provides the computer support that ranges from GIS map support to data and image management including project internet support.