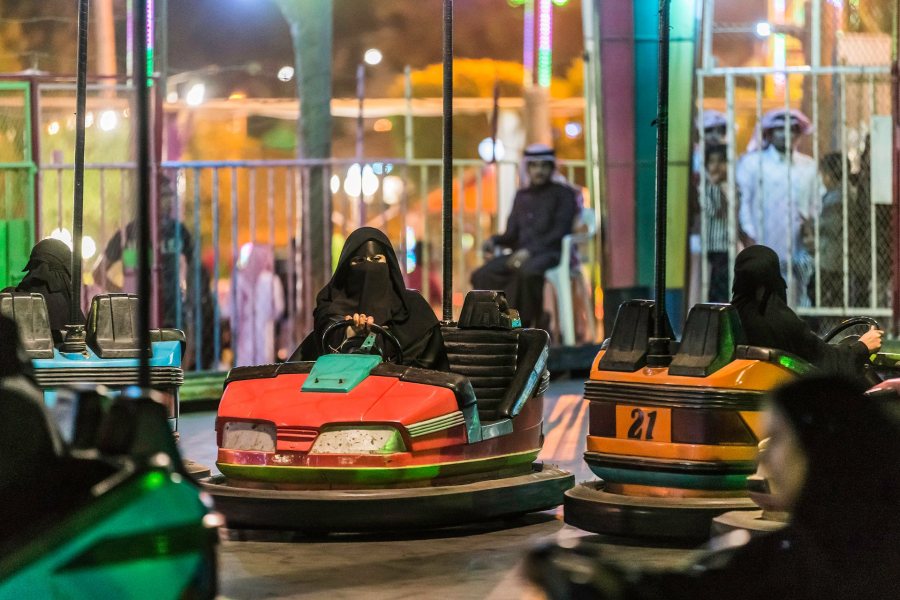 EDITORS: Download an image from "Phantom Punch":
"Never Never Land" (frame capture), a 2014 video by Arwa Al Neami. Courtesy of the artist and Pharan Studio, Jeddah, Saudi Arabia.

Bates College museum among first
to spotlight art from Saudi Arabia
LEWISTON, Maine — It's a cultural knockout that this mill city in Maine didn't see coming: one of the nation's first exhibitions showcasing artists from Saudi Arabia.
And a central goal of "Phantom Punch: Contemporary Art from Saudi Arabia in Lewiston," says one of its organizers, "is to promote cross-cultural understanding between the U.S. and the Arab Islamic world.
"We want to show that there are creative, interesting, critical people who are exploring the political and cultural issues in Saudi Arabian society," says Loring Danforth, a professor of anthropology at Bates who co-curated the exhibition with museum director Dan Mills.
"And we want to undermine the notion that Saudi Arabia is an evil place of oppressive kings, and that there's nothing there but oil and sand."
Running through March 18, 2017, "Phantom Punch" makes Bates one of the very few U.S. art museums, and the first in New England, to offer a major show of work by contemporary Saudi artists.
One of four related exhibitions that have popped up across the nation this year, "Phantom Punch" presents work by leading and emerging Saudi artists in diverse media, from calligraphy to comedy, from painting to photography to video.
Fifteen individual artists and two video collectives address issues exigent in Saudi society and its relationships with the world — the role of women, the impact of the oil industry, the interaction between American pop culture and traditional Saudi values, and the limits of censorship and intolerance on freedom of expression, to name just a few.
Among exhibiting artists is Ahmed Mater, one of Saudi Arabia's best-known artists. "Phantom Punch" hosted the U.S. debut of Mater's video "Leaves Fall in All Seasons," a look at how the holy city of Mecca is being transformed into an environment that favors the super-wealthy to the detriment of less affluent people.
Among other artists featured in the show are:
Abdulnasser Gharem, another leading light of Saudi art, whose works have included veiled reproaches to Saudi government policy and bureaucracy;
Sarah Abu Abdullah, whose video "Saudi Automobile" shows her ""frosting"" a junk car with pink paint — the closest she can get to driving a car in a country where women aren't allowed to drive;
Njoud Alanbari, whose video and photographic works depict ubiquitous cultural messages directed at women.
The name of the exhibition is a reference to both the knockout blow that boxer Muhammad Ali, a Muslim who became an American icon, used to win the World Heavyweight Championship over Sonny Liston in Lewiston in 1965; and, as Mills explains, the surprising nature of an art show made by residents of a country where censorship is pervasive and strictly enforced.
"Most people, when they think of Saudi Arabia, aren't thinking of smart, savvy, technically amazing contemporary art," Mills says. "So it's like, 'What, avant-garde Saudi art?' It's a cultural phantom punch — you didn't see it coming."
The Bates show is the first group show of Saudi artists at a U.S. academic institution, and the first where the presenting institution led the curatorial work. In addition, Mills and Danforth have significantly expanded the number of artists receiving U.S. exposure, including women — nearly half the "Phantom Punch" artists are women.
In a sense, the exhibition's origin lies in a student visit to Danforth's office five years ago. Leena Nasser, a junior politics major from Dhahran, Saudi Arabia, proposed that Danforth teach a course in and about Saudi Arabia for Bates' springtime Short Term.
Danforth was all for it. But he was a little surprised when Nasser suggested that the itinerary include Saudi art galleries. His own anthropological research hadn't involved art. "I was initially unclear why those were on her schedule," says Danforth, Charles A. Dana Professor of Anthropology.
Clarity came quickly once Danforth had seen contemporary work by Saudi artists during that 2012 Short Term visit. "Seeing this stuff was amazing. It offered really interesting insights into Saudi politics and culture," says Danforth, who dedicated a chapter on contemporary Saudi art in his book about the trip, "Crossing the Kingdom: Portraits of Saudi Arabia" (University of California Press, 2016).
After the visit, Danforth approached Mills about the possibility of mounting an exhibition by Saudi artists at the college. Mills proved eager to co-curate such a show with Danforth.
If the year's politics have highlighted U.S. nativism and anti-Muslim attitudes, Danforth and Mills feel that this wracked political atmosphere is an ideal backdrop for an exhibition that, says Mills, "confronts and confounds either preconceived notions or, perhaps, little knowledge about other parts of the world."
The "Phantom Punch" artists, Danforth adds, offer a world of "Saudi commentary on larger issues that American media comment on — only they do it through art and from an insider's perspective. They're raising issues that we all need to think about."
Although Mills and Danforth curated "Phantom Punch," the exhibition received valuable logistical help from the artist collective Culturunners, which mounted three shows of art from Saudi Arabia in the western U.S. this year:— in Aspen, Colo., San Francisco and Houston. (Culturunners' modus operandi includes awareness-raising road trips in a converted RV; Mills took part in such a Culturunners trip between the exhibitions in Aspen and San Francisco last summer.)
All four shows received support from the King Abdulaziz Center for World Culture in Saudi Arabia. Also partnering with Bates for "Phantom Punch" are Mater's Pharan Studio and Gharem Studio, whose principal is Abdulnasser Gharem.
---
About Bates College:
Located in Lewiston, Maine, and engaged worldwide, Bates is broadly valued as a leading national college of the liberal arts and sciences, attracting 2,000 students from across the U.S. and around the world. Since 1855, Bates has been dedicated to the emancipating potential of the liberal arts and sciences, educating the whole person through creative and rigorous scholarship in a collaborative residential community.
Bates has always admitted students without regard to gender, race, religion or national origin, boldly embracing the transformative power of difference, cultivating intellectual discovery and informed civic action, and preparing leaders sustained by a love of learning and a commitment to responsible stewardship of the wider world.