Calling all bargain-hunters: Clean Sweep, Bates' massive 'garage sale,' returns for 17th year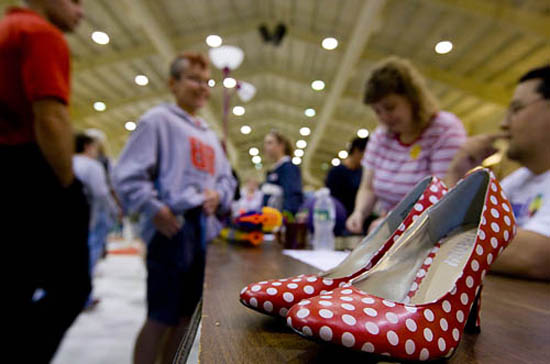 A "garage sale" on a massive scale that benefits the environment, community organizations and countless satisfied shoppers, the 17th annual Clean Sweep takes place 8 a.m.-4 p.m. Saturday, June 17, at Bates College's Underhill Arena, 145 Russell St.
For more information, please contact Pat Pelliccia at the Auburn SHARECenter, 207-344-8485.
As students pack up to leave Bates at the end of the school year, they donate to Clean Sweep all kinds of possessions still in good condition: clothing, electronics and toys, household goods and small furnishings, bikes and books, sporting goods and more.
Volunteers from nonprofit social service agencies in Lewiston-Auburn organize the merchandise and staff the sale. In turn, all proceeds from Clean Sweep are divided among the participating nonprofits — six of them this year.
It's a win-win-win-win situation, says organizer Tom Twist, sustainability manager at Bates. "The first goal is to keep all this stuff out of the landfill. There are literally tons and tons of material that students leave behind. It fills up the entire ice arena, and if we weren't doing this, it would all just go to the dump."
In addition, he says, "this models good behavior for our students and shows them that there are alternatives to just throwing things out. There's also the community benefit of having a big yard sale," as shoppers find treasures at bargain prices.
"Lastly, we generally raise between $15,000 and $20,000 — and that money all goes to the nonprofits."
Bates is one of a number of colleges and universities nationwide that hold such sales.
Located in Auburn except as indicated, the nonprofits taking part in this year's Clean Sweep are:
Ascentria Care Alliance;
Catholic Charities of Maine's Seek Elderly Alone, Renew Courage and Hope (SEARCH) Program, Lewiston;
the Life Center at John F. Murphy Homes;
Maine Franco-American Genealogy Society of Auburn-Lewiston;
the SHARECenter;
and Tri-County Mental Health Services' Social Learning Center, Lewiston.
Held at the Lewiston Memorial Armory last year, Clean Sweep is back on the Bates campus for 2017.