Electoral Engagement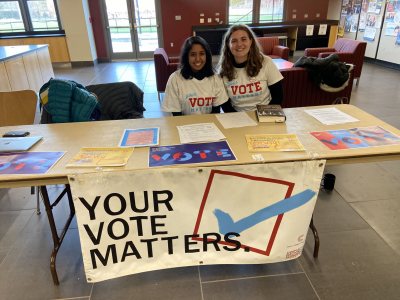 The cultivation of "informed civic action" (Bates mission statement) is a key goal and enduring aspiration of a Bates education. This cultivation happens in many ways and at multiple moments, both within the formal academic program and beyond it. In community-engaged learning courses, civic leadership programs, community work study opportunities, summer fellowships, and volunteer collaborations with off-campus partners, Bates students learn to recognize and activate their civic agency as they work for social, economic, and environmental justice and pursue the common good. In keeping with the original intentions of higher education in the U.S., they gradually build the knowledge and skills necessary to become informed and engaged citizens within the world's longest surviving democracy.
A central pillar of civic engagement is participation in the electoral process through voting. Harward Center programs and students collaborate with others at Bates and beyond to center voter education, registration, and mobilization as foundations of a thriving democracy. All eligible students are strongly encouraged to register and vote in all elections, whether local, statewide, or national, and to do so on the basis of careful consideration of the issues and lives at stake. For comprehensive voter registration information, please check out the @batesvotes Instagram account or visit this website.
During election seasons, Bates offers a range of programs and activities designed to stimulate civic learning and participation. For a list of this year's offerings, click here.
Bates faculty serve as key sources of encouragement for students as they build their civic capacities. Faculty can find relevant suggestions and resources for this role by clicking here.
For sample local ballots and information on Maine's Ranked Choice Voting, click here. Sample ballots for other locales throughout the U.S. are available here. For nonpartisan information about presidential candidates' positions on a range of issues, click here. For guidance on how to detect disinformation, click here. And for a nonpartisan guide to the Supreme Court and the 2020 election, click here.
For a guide to in-person voting in Maine on Election Day, click here.