BatesConnect – About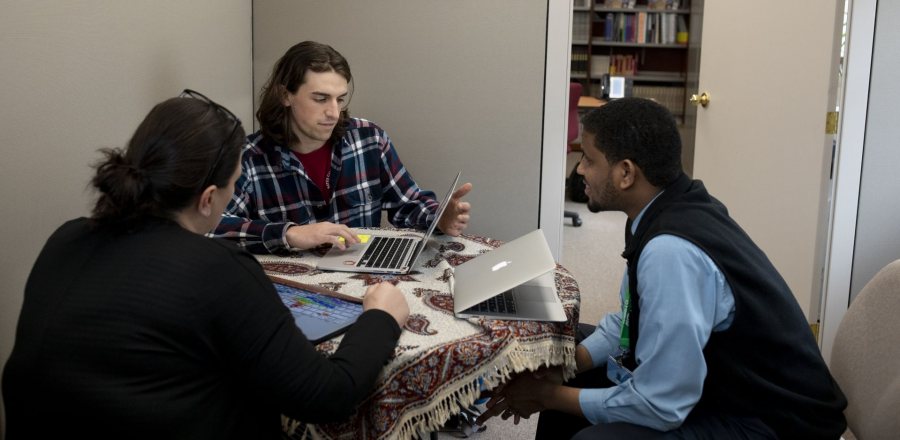 With support from the Bonner Foundation, the Harward Center is working with Bates professor Andrew Mountcastle (Biology) and IT colleagues to develop an online platform — BatesConnect — that gives local K-12 teachers easy access to educational products created by Bates students. These products will typically be created by students as part of their coursework and will take a wide variety of forms. Products will be presented on BatesConnect according to academic field, K-12 grade level, and kind of product. Teachers from all disciplines will be able to peruse the site and select desired products to augment their curriculum. Some products will take the form of in-person visits by Bates students — for example, presentations, performances, and demonstrations that teachers can request for their classroom. Others will be virtual products such as short videos, powerpoint presentations, and whiteboard and stop animation videos, which teachers can access at any time. To learn more about BatesConnect, please see our FAQ page.
Local teachers have consulted on both concept and design and will continue to be an important part of the BatesConnect initiative. Currently in the design phase, BatesConnect will be tested with select K-12 teachers in Fall 2020. Bates students in select Winter 2020 courses are developing content for the new platform. Please stay tuned for updates as this project unfolds.
---
Frequently Asked Questions
What is BatesConnect?
BatesConnect is a new online platform, currently in the pilot phase, that connects local K-12 teachers with educational activities or services created by Bates students. Services are typically created by Bates students as part of their coursework and take a wide variety of forms. The BatesConnect website lists educational services or products according to academic field and anticipated K-12 grade level, and teachers from all disciplines are able to peruse the site and select services to augment their curriculum.
How does BatesConnect work?
Faculty members include an assignment in their course that invites their students to use course-based knowledge and skills to develop a learning activity or module aimed at a segment of the K-12 population. Students submit their learning modules to their Bates professor for evaluation as they would any other assignment. Learning modules are reviewed for possible inclusion on BatesConnect; if approved, learning activities are uploaded to BatesConnect, which is searchable by K-12 teachers.
What kinds of student work are well-suited to the BatesConnect platform?
Bates students can create a range of learning activities or products. Some will involve in-person visits by Bates students to particular classrooms—for example, to make a presentation, perform a skit, or demonstrate an experiment. Other learning products will involve online delivery and access—for example, short videos, powerpoint presentations, or whiteboard stop-animations, which K-12 teachers can use at any time with their students. Teachers can search for both in-person and online products on BatesConnect, either submitting a request for an in-person activity or downloading an online activity of interest. Students may find these resources of interest as they develop their learning products: Steps for Developing a Learning Activity for K-12 Students, Learning Activity Template, Using your Phone to Create Stop Motion Animation. More resources will be added in the days ahead.
What role does the Bates faculty member play?
The faculty member works in consultation with Harward Center staff to develop a course assignment that is designed both to help their students achieve desired learning outcomes and to align with one or more of Maine's K-12 learning standards. The faculty member evaluates their students' work as always. In addition to submitting their work to their faculty member, students also upload their work to their course's BatesConnect google folder. The faculty member informs Harward Center staff about any student work they deem unworthy of being added to BatesConnect; that work is not added to the site.
Who determines which student work products will be included on BatesConnect?
While every student in a course may develop products for BatesConnect, faculty and Harward Center staff ultimately decide which products merit inclusion on the site. Faculty are in the best position to determine the quality and accuracy of student work; Harward Center will ensure that products are suitably aligned with K-12 learning standards. Students reserve the right not to give permission for their work to be shared on the platform.
Who has access to student work products?
BatesConnect is a service provided exclusively to our K-12 partners in the Lewiston-Auburn area. It is possible the service will eventually be shared with a wider audience, but for the foreseeable future it is limited to local educators.
How are student permissions solicited and granted?
Students complete a Student Profile and Permissions form where they grant or deny permission for their learning product to be uploaded to BatesConnect and determine how long their product will remain on the site.
How should student-created learning products be submitted?
Students submit their work by uploading it to a BatesConnect Google Folder corresponding to the Bates course in which it was developed. This folder will be shared with students by their course instructor and/or BatesConnect administrators. Students should take care to name their files as follows: "Last name" followed by "BatesConnect" and the learning product type. For example: Ray BatesConnect Video.

Who do I contact if I have questions?
Email questions to Darby Ray or Ellen Alcorn at the Bates College Harward Center for Community Partnerships.