Electoral Engagement Moments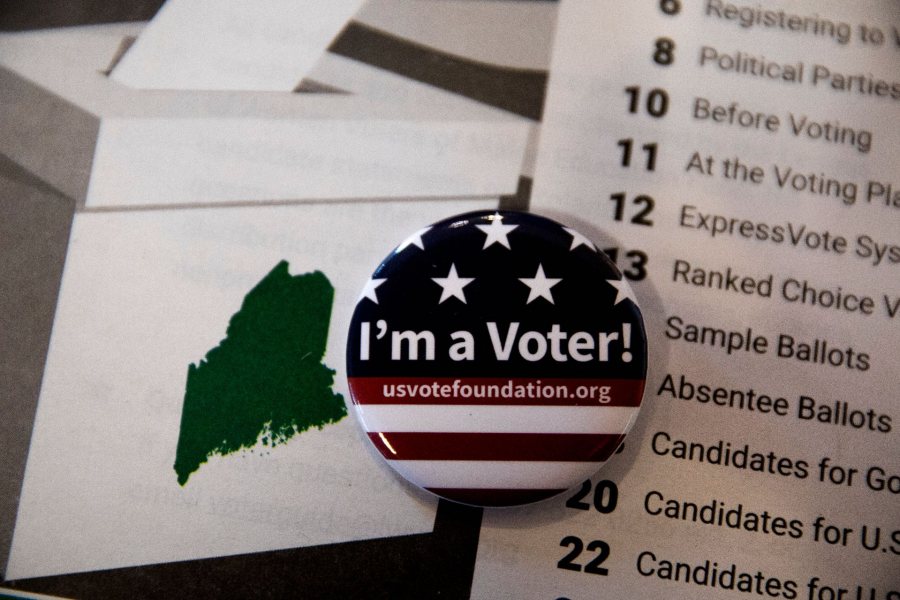 Electoral Engagement Moments are ideas for faculty to consider incorporating into their Fall 2020 courses and advising. For more information or conversation, please contact Peggy Rotundo at the Harward Center.
Electoral Engagement Moment #1:
Put Election Day — Tuesday, November 3rd — on your syllabus.
The college years are crucial for the development of lifelong civic engagement habits, including the habit of voting. More than any other group on campus, faculty play a critical role in a student's decision about whether or not to vote. As you design your courses for the coming fall, the Harward Center invites you to think about simple, nonpartisan ways to engage students in the electoral process, regardless of your discipline.
Electoral Engagement Moment #2:
Support student voter registration.
Did you know that Title IV of the Higher Education Act requires most higher ed institutions to make a "good faith" effort to distribute voter registration forms and that doing so is considered an appropriate nonpartisan action? Stay tuned for ways you as a faculty member can support voter registration for your students.
Electoral Engagement Moment #3:
Invite a trained Bates volunteer to visit your class during September to spend a few minutes helping students register to vote.*
Especially for first-time voters, or for students whose physical address (even their residence hall) has changed, filling the form out correctly can be tricky. For in-person classes, the (masked and distanced) volunteer will bring registration cards to your class meeting and will talk students through the process of registering. We also have options for remote classes. To express an interest, please email Amalia Herren-Lage '22 or Peggy Rotundo at the Harward Center.
* Offered through the Harward Center's nonpartisan BatesVotes initiative, which is designed to encourage all eligible Bates students to participate in the 2020 election. We don't tell students how to vote or where to vote, but do try to impress upon them the importance of voting as a pillar of democracy.
Electoral Engagement Moment #4:
Dedicate some class discussion time or a low-stakes writing assignment to the question of how your course relates to policy issues being discussed in the presidential campaign—for example, climate change, immigration, Black Lives Matter, technology and privacy, equity in funding public schools, criminal justice reform, funding of cultural institutions, health care, etc.
Electoral Engagement Moment #5:
Watch (or assign) one or more of the super-short Democracy QuickBites videos, which are designed to spark thought and conversation among the Bates community. The expanding list of videos/topics is available here, with more added every week or so. https://www.bates.edu/harward/democracy-quickbites/
Also: Reach out now to schedule a visit to your class — remote or in person — of a trained student who will help your students register to vote and learn about early voting. Email Amalia Herren-Lage '22 at aherrenl@bates.edu or Peggy Rotundo (mrotundo@bates.edu) to get this scheduled. Given the postal service delays that are happening these days, these visits need to happen in September if at all possible.
Electoral Engagement Moment #6:
This Tuesday, September 22, is National Voter Registration Day, a nonpartisan, civic holiday celebrating our democracy and observed by most college and university campuses nationwide. The day provides faculty with a great opportunity to remind students about the importance, in a democracy, of voting and to ask them if they are registered to vote. We are urging students to register by the end of September so they are positioned to vote early in October. A voter registration guide specifically designed for Bates students can be found @batesvotes. If you would like a student volunteer to come to your class to register students, please contact Amalia Herren-Lage '22 or Peggy Rotundo at the Harward Center.
Electoral Engagement Moment #7:
Remind students, particularly those voting outside of Maine, to request their absentee ballots NOW. Many state deadlines are fast approaching, some as early as October 4th! Students can check on their registration status and request an absentee ballot at vote.org.
Questions? Please contact Amalia Herren-Lage '22 or Peggy Rotundo at the Harward Center.
Electoral Engagement Moment #8:
"I am asking overwhelmed institutional leaders, faculty, and staff to do whatever it takes to prioritize student political learning and participation in democracy for the following few weeks, despite the competing demands on your time. It's not too late to act." ~Nancy Thomas, director of the Institute for Democracy & Higher Education at Tufts University's Tisch College of Civic Life
All disciplines can examine relevant issues in this election, and all students, regardless of their chosen profession, need to grapple with big questions that illustrate what's at stake for the future and health of US democracy. Below, I outline several sets of questions that faculty and student groups can integrate into classroom activities and cocurricular events. While each set could lend itself to an entire class period (and, in many cases, a whole course), or could simply be shared with students to explore on their own time, the point is to raise awareness and engagement in critical issues and concerns surrounding the election.
1. What is the best approach to addressing a nationwide health crisis? Which level(s) of government are in the best position to make policy choices: national, state, local, or some combination? What is the role of science in public health policy? How do we ensure the public has access to science-based recommendations?
2. What policies and practices need to change to stop racial injustice in community policing? Who is in the best position to make that decision: local, state, or federal governments? Are current attitudes about race the outcome of individual biases, longstanding structural inequalities, or both? How should educators support antiracism in society and on campus?
3. What is the best process for choosing US Supreme Court justices? Is the current process (a presidential nomination, confirmation by the US Senate) fair? How important is an independent judiciary, and if it is important, how can partisanship be removed from the selection process? Is there a cut-off date during an election year for making these lifetime appointments?
4. What constitutes a "free and fair" election? What is the history of voting rights in the United States? How do US voting rates compare with rates in other established democracies? Where is the line between extreme inconvenience to cast a vote and intentional suppression? How does voting affect representation and policy choices?
5. What will happen on election day and the following days, weeks, and months? How do we prevent voters from feeling "robbed"? What needs to happen on campus to plan for different election results? How do we prepare for "the morning after"?
6. How do we explain white nationalism in the United States? What economic, social, and political conditions give rise to hate groups in any society? Is domestic terrorism a significant problem in the United States? Should campus communities censor or rebuke hate speech? How do campus community members balance expressive freedoms and maintaining inclusive and welcoming conditions for student learning?
7. What is the appropriate balance between individual freedoms and social responsibility? What responsibilities do we have toward people in our communities, state, the nation, and the globe? How do we instill in people a sense of shared responsibility for each other's success and well-being? What public issues (e.g., climate change, tax policy) hang on the balance between individual rights and social responsibility?
8. Is "character" important in judging the strengths and weaknesses of a candidate? What are the attributes of a candidate with character? Does "likeability" matter? What matters more: ethics or effectiveness?
9. Is the US "grand experiment" in democracy failing or thriving? What are the warning signs of authoritarianism? What are the attributes, principles, and practices of a strong democracy? How do we assess the state of democracy at this time?
10. How secure is academic freedom? What is the campus climate for discussing political issues? What pressure do academics face to be "neutral," as opposed to being critical scholars? What is the role of standards of evidence and truth in educating for a strong democracy?
Nancy Thomas, "Educating for the 2020 Election: A Call for Immediate Action," Liberal Education Blog, September 30, 2020.
Electoral Engagement Moment #9:
Scroll through this Scholars Strategy Network resource page for ideas on how to discuss civic learning and democratic engagement in your classroom, including anti-racist approaches. When faculty connect the election and voting directly to policies that intersect with course content, it provides the additional "why" we vote.
Please also consider letting your students know that October 19th (next Friday) is the last day for voter registration on campus. If a student hasn't put their registration card in the box at the Library or Post and Print by noon on the 19th, they will need to register to vote in person at City Hall or at the polling place on Election Day. For more information or to discuss questions, concerns, or other ideas, please contact Peggy Rotundo at the Harward Center.
Electoral Engagement Moment #10:
Consider reminding students that early voting is taking place this week and next at Lewiston City Hall. If students are not yet registered, they can register at City Hall before they vote, or they can register and vote at the polls on Election Day. If students are registered in their hometown (not Lewiston) and have not yet returned an absentee ballot, they can choose to register and vote in Maine. At this late date, they should consider doing so to ensure that they are able to vote somewhere without risking their mail-in ballot not arriving in time. More information is available on Instagram @batesvotes, and questions can be directed to Amalia Herren-Lage '22, Ashka Jhaveri '22, or Peggy Rotundo.
Electoral Engagement Moment #11:
With the U.S. election only days away, consider sharing the information below with your students.
Important election information: Make a plan to vote
REGISTERED TO VOTE IN MAINE? To protect the safety of all involved, it is advisable to cast your vote BEFORE election day at City Hall to avoid long lines and big crowds. The hours and dates for early voting are available here. If you have a Maine absentee ballot, fill it out (making sure to sign the back of the envelope!) and return it to the ballot drop box by City Hall, or take the ballot with you to City Hall and vote the ballot there and turn it in.
NOT YET REGISTERED TO VOTE? You can register at City Hall when you go to vote early.
DID YOU MEAN TO VOTE AT HOME BY ABSENTEE BALLOT BUT HAVE NOT YET RETURNED YOUR BALLOT? To ensure your vote will be counted, consider going to City Hall in Lewiston and registering to vote here instead of mailing your ballot back. Why? The US Postal Service recommended 14 days for ballots to get back to their municipality, and it's now only 9 days until the election. Consider destroying your absentee ballot from home and voting early at City Hall.
SAME DAY REGISTRATION IS ALLOWED IN MAINE, so if you meant to vote at home and didn't, or if you meant to vote early in Lewiston and didn't, you can still register and vote at the Armory across from the Bates campus on ELECTION DAY!
FIND OUT WHAT IS ON THE BALLOT: vote411.org is a good, nonpartisan source of information. A sample Maine ballot may be viewed here.
The most important thing is to VOTE!!!!!
Questions? For more information go to @batesvotes on Instagram or contact Amalia Herren-Lage '22  or Ashka Jhaveri '22, Bates Votes Co-coordinators,  or Peggy Rotundo at the Harward Center.
Electoral Engagement Moment #12:
Prepare students now for a prolonged outcome. Because the pandemic has changed how many Americans are voting in 2020, it may take days if not weeks in some places to process election results. Acknowledge that in a competition to be the "first to call" races, media may be scrambling to project outcomes, potentially leading to conflicting reports, the premature declaration of winners, and confusion. Message to students that patience is necessary. Democracy is worth the wait!
Make a plan for November 4th and beyond. As we know, these are stressful, even overwhelming times, and we will all need opportunities to process the election, even as the election process may take longer than usual to conclude.
Plan to set aside some class time after the election. Because of their youth and the tumultuousness of the times, many students will find themselves dealing with a flood of intense, complex emotions, regardless of whether or not their candidate, party, or issue was successful. No matter what subject we teach, our students will need time and permission to process their emotions. Consider incorporating one or more of these short activities during your post-election classes:
Calming music: Some of us routinely use music at the beginning of class to set the tone, and in high-stress times it can be particularly effective. Play something you find soothing rather than trying to get into your students' heads, or feature your selection one day and invite students to send you their picks for future days.
Grounding in: Many of us do this already, but in the days following the election it could be more important than ever to invite students into a calm, quiet space where they can simply breathe and try to find a moment of emotional equilibrium. There are lots of ways to facilitate this, and you probably have colleagues who do it routinely, so ask around if it's your first time and you want suggestions.
Free writing: This can be an excellent way for students to process private thoughts and emotions in a collective space/moment. These are generally not for sharing, although some prompts lend themselves well to a low-stakes pair-share exercise. A free-write only takes five minutes, so why not use it daily for a while after the election?

Invite students to try to articulate their election-related feelings in a free-write for their eyes only.
Encourage students to reflect on self-care practices they might want to take up in the coming days.
Ask students to reflect on a question like, "What are your hopes going forward from this point?" This kind of question invites them onto a constructive path.
Invite students to start thinking about what is next for them given their values and hopes. How will they stay engaged in the issues they care about going forward?
Encourage students to consider local issues and initiatives. Are there things they want to learn about or get involved with in Lewiston/Auburn or their own hometown?