Peer Health Education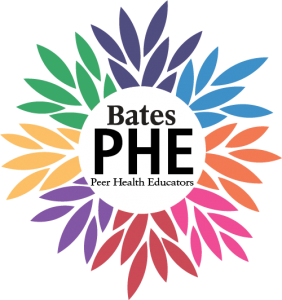 Bates Peer Health Educators (PHEs) is a group made up of students from various class years, interests, and experiences. PHEs understand health as a multi-dimensional, self-defined, and values-based concept. The work that PHEs do aims to systematically improve the health of themselves, their peers, and the broader Bates community. PHEs believe in the power of peer-to-peer education, as well as utilizing harm reduction-based approaches. We recognize that there are many visions of and ways to practice health, and that everyone brings different experiences and perspectives to the Bates community. As such, PHEs continually strive to promote inclusion in their programming, as well as in their meeting and discussion spaces. This is an invitation to call everyone into conversations about health and wellness, and we thoroughly look forward to working with all interested students.
General Topics: PHEs are encouraged to explore health topics they are passionate about. Core health issues that PHEs focus on include mental health, sexual health, alcohol and other substances, and nutrition.
Participation Requirements:
Students are encouraged to participate in whatever capacity is right for them. A loose estimate for meaningful participation includes – 
Attending mandatory 1-hour weekly group meetings.

Spending 5-10 hours/semester outside of group meetings on program development, implementation, and evaluation, planned around your own schedule.
Health Education professional team members are committed to supporting the success of Peer Health Educators. If you are interested in participating, but have identified a barrier (time or otherwise), please reach out to Andee Bucciarelli.
Join us! If you are interested in being a Peer Health Educator, please fill out this interest form or contact peerhealth@bates.edu. If you have questions, please reach out to Andee Bucciarelli at abucciar@bates.edu.