Peer Health Education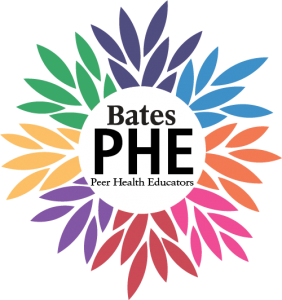 Understanding health as a multi-dimensional, self-defined, and values-based concept, the Bates Peer Health Educators will work to systematically improve the health of themselves, their peers, and the broader Bates community through peer-to-peer, staff-trained and supported, health promotion interventions. We know that there are many visions of and ways to improve health, and so at the core of this program must be inclusion, equity, and diversity. This is an invitation to call everyone into conversations about health and wellness, and we thoroughly look forward to working with all interested students.
General Topics: Working groups focus on Mental Health, Sexual Health, Relationships to Alcohol and Substances, and Nutrition.
Participation Requirements:
Attend mandatory 1-hour weekly group meetings.
Commit to spending 5-10 hours/semester outside of group meetings on program development, implementation, and evaluation, planned around your own schedule.
Join us! If you are interested in being a Peer Health Educator for the 2021-2022 academic year, please email Andee Bucciarelli at abucciar@bates.edu, Sarah Garijo-Garde at sgarijog@bates.edu, or peerhealth@bates.edu