Meet the Educators
Who are the Peer Health Educators?
The Peer Health Educators are Bates students who are passionate about a range of health and wellness topics and are dedicated to working from within the Bates student community, in partnership with the office of Residence Life and Health Education, to make a positive change in the lives of Bates students. The educators have diverse backgrounds, majors, personal interests, and engagements across campus. Becoming a Peer Health Educator does not require any prior knowledge or experience in health promotion, just a positive attitude and a willingness to learn! Meet our educators below!
---
Mfon Diduff '24

Hi! My name is Mfon Diduff and I am in the class of 2024! I plan on majoring in Biochemistry with a concentration in either Spanish or African studies. I hail from the great city of Brooklyn, New York but I am always a proud Nigerian!!! I decided to become a Peer Health Educator because I believe this is a great opportunity for me to spread awareness of different aspects of health across our campus that often get swept under the rug. I am looking forward to being a part of a great shift in our culture.
---
Ruslan Peredelskyi '25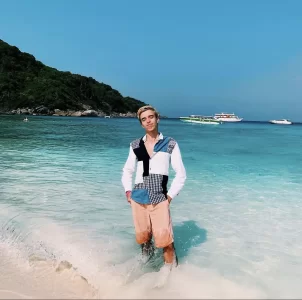 Hi! I'm Ruslan and I'm from Ukraine. Because of my occupation – classical ballet – I became seriously interested in the topic of health. Studying patterns that affect well-being has become one of my interests. Besides dancing, I love yoga, jogging, sub-boarding, and horse riding. My goal in PHE for this year is to work with aspects of health that haven't received enough attention at Bates before and to spread health awareness.
---
Emma Johnston '23
---
Gretchen Lindenfeldar '23

Hi! My name is Gretchen and I'm in the Class of 2023! I'm from a small town in New Jersey called Pennington. I joined Peer Health to make a bigger impact in the Bates community! My favorite thing about being part of Peer Health is getting to know a bunch of different kinds of people.
---
Katia Ryan '23

Hi! I'm Katia and I hail from upstate New York. On campus you can most likely find me leading yoga classes or dancing on the quad to Buena Vista Social Club before my 8am. I am a French and Francophone Studies Major and Public Health GEC. I really care about creating spaces and activities on campus where Batesies feel comfortable sharing and learning about what wellness means to them and others. See you around campus!
---
Courtney Tally '23
Hi! My name is Courtney Tally and I am a member of the class of 2023! I am from Hanover, NH and am super excited to continue to be a part of Peer Health for this year. As part of the sexual health group, I was a part of the Sex Week Trivia last year and am excited to create more programming for Sex Week 2022! I am a declared biology major with a minor in chemistry and a concentration in applying mathematical methods. On campus, I am also a part of the Dance Marathon Committee, a member of the sailing team, and I play the cello in the Bates College orchestra.
---
Adelle Welch '25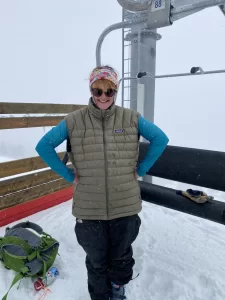 Hi! I'm Adelle Welch from Livingston Montana. I'm interested in biology but also every other thing a person can study. I joined Peer Health this year to become more involved with the Bates community and I'm very excited to be a part of the nutrition team this year!