Milliken House
A cozy First Year house with a great sense of community ideally located on the Quad.  As residents of one of the two First-year houses on campus, The Milliken Thirty are friendly and close-knit. All rooms except Room 3 and Room 21 have carpeting.  All rooms without built-in closets are equipped with free-standing armoires.
---
Meet the Residence Life Staff
Livia Bernhardt ('24) – Junior Advisor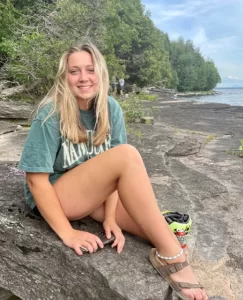 Hi! My name is Livia, and I'm from Leicester, Vermont. I'm a Biochemistry major and Mathematics Minor. My favorite study spot is a nook on 3rd floor of library, and my favorite meal at Commons is Chicken Parm!! I lived in Page Hall (4th Floor) as a first-year, so I'm excited to experience house living with all of you. Some of my essential items include string lights, a fan, a rug, a mattress topper, and (optional) a bean bag chair (my favorite thing in my room). I'm on the women's rowing team and club ultimate frisbee team! I also play pickup basketball in my free time. But the thing I'm most excited for this year is to meet the incoming class and to experience a more "normal" year than what my first year was like.
---
Tasha Kaluzynski ('22) – Junior Advisor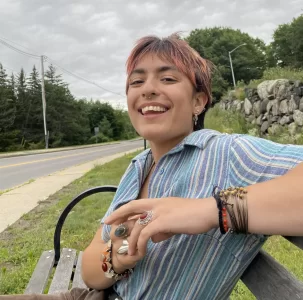 Heyyyyy cats, I'm Tasha (they/she) and am so excited to meet y'all this fall! I am a rising senior majoring in philosophy with gen ed concentrations in queer studies and law & society. I'm from Connecticut and am passionate about jam sessions, chats over tea, immersing myself in Maine's natural beauty, the Commons vegan bar, and political action, education, and aid. Those of you who I get to spend time with this year- congratulations and beware (of the sick time we'll have together)! Enjoy your summers <3