New and upgraded Group Study Rooms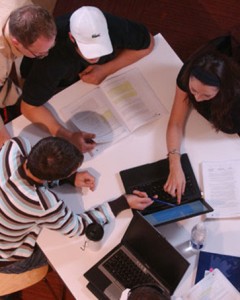 Looking for a place to collaborate with a few others?
Besides the upgrade to the touch-screen all-in-one computers in the instructional lab and in the clusters on the Main floor, we now have 10 rooms with varying equipment and priorities that can be used for group study.
There are two areas on the Main floor:
The Collaborative computer screen
The Mabel Eaton Presentation studio
The rest are on the Ground floor – and they are not just for viewing DVDs (though reserve viewing is their priority) but can be used by a group for laptop projection on a large screen.
Viewing rooms 1 – 4 have capacity for up to 4 people
Viewing rooms 5 -6 are for much larger groups
Composing Workstation for individual music composition
Check this chart for the all the facts and how to reserve a space.