LibrarySearch+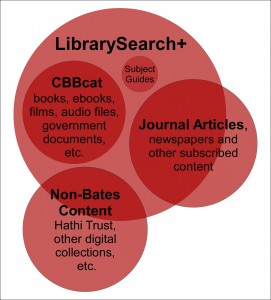 What is LibrarySearch+?
LibrarySearch+ is a discovery, full-text search that combines in one search most of our extensive online and print content in a single unified index. Besides CBBcat catalog content, it includes over 90% of the journals we subscribe to, many of our article-indexing databases and newspaper articles, and allows the user an option to include many open digital collections, repositories, and other open access archives into their search.
Particularly advantageous for:
beginning search by a novice researcher
eliminates the confusion of which specific database or subject category to start
interdisciplinary searching
overwhelming number of full text in the results
powerful full text searching by using specific phrase or well-defined search terms
"going beyond the library" option includes scholarly digital collections on the web in your search
Features of LibrarySearch+
Google-like searching
find a variety of resources with one search – books, ebooks, journal articles, images, newspaper articles and more…
search results can be easily narrowed by using the facets – content types, subject terms, date, library location and more…
can limit to scholarly/peer-reviewed sources
preponderance of full text results and, if not, provides a link to Bates360 article linker or interlibrary loan option
search interface optimized for smart phones
search results can be viewed in six commonly used citation formats and exported to EndNote
RSS feeds are automatically created for any search you run and you can subscribe to a feed to get easy updates to your searches
What's Not in LibrarySearch+?
Though extensive, there are some library resources not included in LibrarySearch+. For comprehensive or discipline-targeted searches, the indexes listed in our Subject Guides should be consulted.