Bates College Museum of Art Museum Education Fellow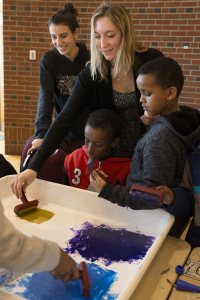 Nine-month position. Salary and benefits: $25,500/year, plus benefits ($8,797.50) $34,297.50.
The Museum of Art Synergy Fund sponsors an Education Fellowship position to afford a recent Bates graduate a nine-month period (academic year/September through May) in which to extend their education and professional training. This position is an entry-level museum position. The Fellowship may be renewed for a second year.
The Fellowship is ideal for a motivated individual interested in art, education, and museums, and gaining professional experience working in a small but high-profile college art museum prior to pursuing advanced studies. While the focus is the education program, the Fellowship is designed to provide the recipient the opportunity to also gain knowledge in curatorial, research, collection management, and administrative skills. The Fellow will be an integral part of the Museum of Art staff.
The Education Fellow will assist the Education Curator with the planning, deployment, and evaluation of the museum's educational programming that integrates the exhibitions and collections into k-12 curriculum and the Bates campus community. Examples of projects include assisting with integrating the Thousand Words Project (TWP) and STEAM Power which utilize collections and exhibitions as teaching resources in Language arts and STEM subjects; developing parent-child artmaking workshops; creating after-hour museum programs for Bates student organizations; supporting curricular connections between the museum and academic disciplines; managing the Student Museum Group, a group of Bates students that advocate for the museum among friends, peers, and the Bates community; and integrating museum programming into the cultural and social life of Bates. Work at the Museum of Art is intensively and deliberately collaborative. Consequently, the Fellowship will provide opportunities to work with other staff members, and to participate in and gain insight into many other aspects of an academic museum.  Additionally, the Education Fellow will work with faculty and staff outside the museum, including those from area schools.  These experiences will prepare the Fellow for advanced study or employment in the arts or education.
Requirements: BA or BS with coursework in Education and classroom experience or equivalent; strong writing and communication skills; and excellent organization skills and attention to detail. Desired: Concentration in Education; Art History & Studio Art coursework; experience working with material culture; familiarity with educational and social web-resources and web design; experience working in a museum or other educational setting; computer image and design software and database experience. The successful candidate will be a self-starter who also works well in a small, team-oriented museum environment, and have the ability to work with a variety of constituencies at a liberal arts college. Day-to-day supervisor is the Education Curator; reports to Director.
Apply here.