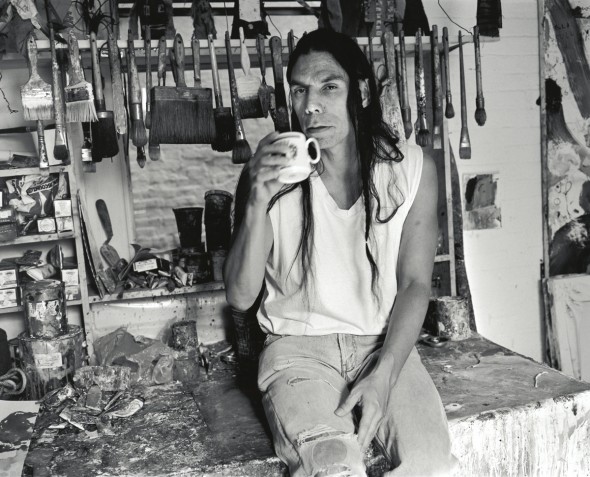 Artist Lecture by Brad Kahlhamer
Wednesday, October 5, 2011 — 6:00pm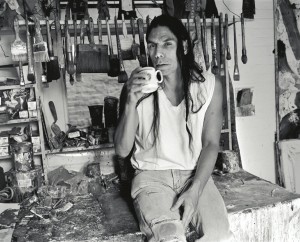 Wednesday, October 5 at 6:00 p.m. in the Olin Arts Center, room 104. Followed by a reception for the artist.
New York artist Kahlhamer fuses Expressionist painting with comics, street culture and the visionary tradition of Native American art to create narrative work that hovers between autobiography and invention.
Kahlhamer's personal story is central to his work. He is Native American, born in Arizona in 1955. He was adopted as an infant by a German-American family and grew up with no connection to his heritage. Kahlhamer has referred to his work as the third place. The life he might have lived, with his natural parents on a reservation, and the life he's lived, his adopted life, are the first two places. The third place is a melding of these two, and history, fantasy, and personal narrative and revelation. His drawings, paintings prints and sculptures meld lived experience with learned knowledge of his unknown ancestral past and things imagined into an alternative world where they exist in permanent dialogue.
"Exploding and imploding myths of the American Old West, Brad Kahlhamer has recently emerged into the front ranks of contemporary New York painters. His jagged cartoon lines and swirls of earth-colored pigment reconfigure painting as an open system able to encompass multi-ethnic and street cultures from Native American iconography to Zap Comix. In an era poised capitulation and diversity, Kahlhamer has left the recycling of previous styles behind him. Instead he rummages through the dust-bin of history to organize jagged intellectual rushes which encourage viewers to reconnect with social roots and identity."
-Michael Cohen, Flash Art, July-September, 2001
About a recent painting, Kahkhamer states "It is this giant idea of chaos… What I'm trying to paint is ecstasy, spiritual ecstasy, and part of this ecstasy is chaos, destruction, everything has to be sweated out…"
"Brad Kahlhamer's chaos includes totems, skulls with long braids, two-headed eagles and "prairie girls" in fashion poses armed with rifles. Or buffalo, deer, and beaver that think and talk like comic-book characters, interacting with mountains, rocks, fir trees, amplifiers. It's a paradoxical, tangled world that both influences and is inevitably influenced by the artist's personal experiences, by his cultural passions, by his stylistic reveries."
-Mariuccia Casadio, Brad Kahlhamer, Charta, Milan, 2007
Brad Kahlhamer has exhibited extensively internationally, including solo exhibitions at the Denver Museum of Contemporary Art, Scottsdale Contemporary Museum of Art, Madison Museum of Contemporary Art, and Aspen Art Museum. He has had solo exhibitions at galleries in Stockholm, Luxembourg, Santa Fe, London, Los Angeles, Milan, Brussels, and New York including shows at Deitch Projects in 2006 and 2001. Kahlhamer has lectured at the Museum of Modern Art, and Milwaukee Art Museum.