Chinese painting exhibition opens at Bates College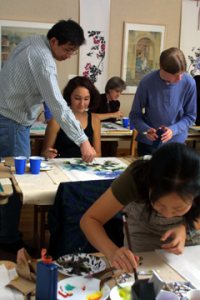 A Chinese painting exhibition by Nanjing artist Zhang Yi will be on view in the Bates College Museum of Art Lower Gallery Sept. 28 through Nov. 25. An opening reception with the artist will take place from 7 to 9 p.m. Friday, Sept. 28.  Zhang will give painting demonstration workshops from 1-4 p.m. Saturday, Sept. 29, and Sunday, Sept. 30. The workshops are free and open to the public. Museum hours are Tuesday through Saturday, 10 a.m. to 5 p.m., and Sunday, 1 p.m. to 5 p.m.
A painter in both the Xieyi style noted for its self-expression, mood and spirit, and the Gongbi style which imitates life and outward experience, Zhang has been studying painting since childhood. In 1989, he enrolled in the Traditional Chinese Painting Program of the Fine Art Department of Nanjing Art College. In 1993, Zhang joined the faculty of the art design department of the Nanjing University of Science and Technology. Specializing in landscape, flower-and-bird and figure paintings, the exhibit at the Bates Museum of Art is Zhang's  first one-man show in the United States.
"Instead of telling my stories, my works are designed to provide the audience with an imaginary place to retreat to, and a place to escape the hustle and bustle of the worldly life," Zhang said. "My paintings integrate artistic conception with some popular taste and technique of Western art. It has enabled me to better infuse my personal feelings into the paintings."
The visit and exhibit have been sponsored by a gift from friends of Chinese studies at Bates College and the Bates College Museum of Art.
View Comments