Music professor awarded Fulbright grant for South African research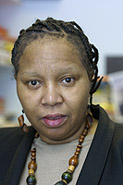 Linda F. Williams, assistant professor of music at Bates College, has been awarded a Fulbright Scholar grant, her second, to conduct research in South Africa during 2003. Williams will be in Africa from April until September of next year. The Fulbright grant will support research visits to Cape Town and Johannesburg, where Williams will research mutual influences between African American jazz musicians and their African counterparts.
Williams embarked on this line of exploration a decade ago in Zimbabwe, supported by her first Fulbright grant. She's researching historical connections between the Harlem Renaissance, a flowering of African American culture in the United States during the 1920s, and later parallel movements in South Africa — notably in Cape Town's District Six and Johannesburg's Sophiatown, both ultimately razed by the repressive government of pre-democratic South Africa. (Three artists who emerged from those scenes established U.S. careers here in the 1960s, singer Miriam Makeba and trumpeter Hugh Masekela, from Johannesburg, and Cape Town pianist Abdula "Dollar Brand" Ibrahim.)
An ethnomusicologist, Williams will interview musicians and others who were active in those communities. Although American minstrel shows were touring South Africa as early as the 1860s and American jazz had a more empowering impact during the last century, those connections remain largely unexplored. Williams' long-term goal is to write a book about the topic.
Williams is one of about 800 U.S. faculty and professionals who travel to some 140 countries annually with support from Fulbright grants. Established in 1946 through legislation introduced by the late Sen. William J. Fulbright, of Arkansas, the program is intended to build mutual understanding between the people of the United States and of other countries.
Sponsored by the U.S. Department of State, the Fulbright Program has supported the endeavors of about 250,000 teachers, students and others in its 56 years. Fulbright recipients are selected on the basis of academic and professional achievement or demonstrated leadership potential.
A Lewiston resident, Williams has taught at Bates since 1996. She has created courses exploring race, class and gender issues in music, as well as music of the African diaspora and African American popular music. Her forthcoming anthology, "Speaking Black, Speaking, Feminist, and Speaking Music," is under contract at The University of Illinois Press.
A jazz saxophonist, Williams has performed extensively in the United States, the Caribbean and Africa. She is the founder and director of the Steel Pan Rhythm Riders, a student band at Bates that plays jazz, calypso and other styles.
View Comments