Qualified for nationals, Bates debaters host Oxford, Harvard and Yale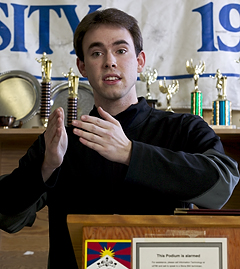 Oxford, Harvard and Yale universities will be among 10 institutions visiting Bates March 11-13 for an international tournament hosted by the college's Brooks Quimby Debate Council. As part of the gathering, a trio of Bates debaters will square off against three members of the Oxford team, on a topic to be announced, at 8 p.m. Thursday, March 11, in Skelton Lounge, Chase Hall, 56 Campus Avenue. The public is invited to attend the Bates-Oxford debate, co-sponsored by the Brooks Quimby Debate Council and the Department of Rhetoric, free of charge.
Debate has enjoyed a long and illustrious history at Bates, which was the first American college to debate in Europe at Oxford University in 1921. "This event is simply a celebration of an 80-year relationship and sense of competitiveness that just keeps getting stronger and stronger," says team captain, senior Ryan Shepard, of Norway.
Describing his team's performance at the recent Bowdoin College-hosted parliamentary debate tournament, Bates debate coach Bryan Brito said, "We pretty much cleaned house in hardware." Novice debaters Ryan Creighton '07 and Mike Neville-O'Neill '07 placed second overall in the tournament, qualifying a third Bates team for the American Parliamentary Debate Association's National Championship Tournament April 9-11 at Swarthmore College.
At Bowdoin, veteran Bates debaters Drew Jarboe '05 placed third in the varsity speaker category, followed by Shepard '04 (sixth), Adrienne Maxwell '06 (seventh) and Chris Laconi '05 (10). Bates varsity teams peppered the top-10-spots, led by novices Crieghton and O'Neill, who broke into the final varsity round. Laconi and Jarboe placed fifth, Maxwell and Case Pfitzner '07 placed sixth and Katie Celeste '06 teamed with Mike Metzger '06 for eighth place.
Bates placed five debaters in the top-10-ladder for the novice speakers, including Maxwell (second), Creighton (fourth), Vaibhav Bajpai '07 (fifth), Stacey Layton '05 (sixth) and Pfitzner (seventh). Placing first in the novice team category (on their way to varsity finals), Creighton and O'Neill were joined by their novice teammates Maxwell and Pfitzner in second place, Rakhshan Zahid '07 and Fabio Periera '07 in third and Ryan Nbulsi '05 and Layton in fifth.
View Comments