Bates junior wins prestigious fellowship and internship at Cato Institute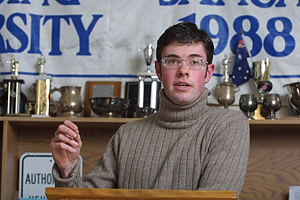 A paid summer internship and fellowship working with national policy experts, journalists and academics at the Cato Institute in Washington, D.C., has been awarded to Bates College junior Christopher Laconi of Falmouth, Maine.
Laconi has been named a Charles G. Koch Summer Fellow by the Institute for Humane Studies, an Arlington, Va., organization that assists undergraduate and graduate students who have a special interest in individual liberty. The honor includes a $1,500 stipend, furnished housing worth $2,000, and airfare to and from Washington, D.C.
This year, more than 850 students and recent graduates applied for the fellowships and internships, and 40 were awarded. The program offers a summer working with policy experts, journalists and academics exploring market-based solutions to social and economic problems.
Laconi said he learned of the fellowship and internship from two Bates alumni, David Kirby '01 and Brian O'Doherty '02, who were involved in the John Galt Press and the Brooks Quimby Debate Council and went on to work at the Cato Institute. The Cato Institute is a non-profit public policy research foundation that "seeks to broaden the parameters of public policy debate to allow consideration of the traditional American principles of limited government, individual liberty, free markets and peace."
"Even in such a tight-knit community, its always possible to find people at Bates with a unique interest or outlook," said Laconi of his experience.
Laconi is the editor-in-chief of the John Galt Press, outgoing student government president, 2005 class president, president of the Bates Civil Liberties Union, and vice-president of the Brooks Quimby Debate Council.
View Comments