Bates volunteers lead Rebuilding Day
by Anne Conway '04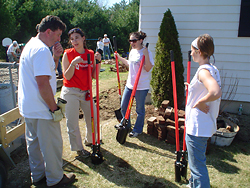 We were listening to Oklahoma, singing and throwing around bales of hay. But this was no rehearsal for a Short Term musical. The hay would protect the new grass seed from the sun and hungry birds, and the show tunes came courtesy of the homeowner's daughter, who at 10 is a budding Broadway star.
On May 1, a hot and sunny Saturday, a bunch of Batesies and other volunteers gathered for National Rebuilding Day, an annual community undertaking to rehabilitate housing for the disadvantaged. The day is sponsored by Rebuilding Together, a national organization with 250 regional affiliates dedicated to refurbishing homes for low-income people, particularly the elderly, disabled and families with children.
The Lewiston-Auburn branch of Rebuilding Together was founded in 2002 by John Scott Johnson, a Bates senior from Washington, D.C. In 2002 and 2003 the group worked on a total of four buildings housing 10 families.
But on May 1, Johnson and upwards of 60 skilled and unskilled volunteers fixed up eight homes, for the chapter's largest Rebuilding Day yet. The rehab ran the gamut: rebuilding stairs, demolishing walls, painting, servicing electrical and heating systems, patching roofs and repairing plumbing.
"Our major concerns at Rebuilding Together are the safety and dignity of all homeowners," said Rachel Booty, a Bates senior from Center Sandwich, N.H., who is board vice president for Rebuilding Together of Lewiston-Auburn. "Restoring pride in the place you live is a vital part of community."
"My parents always taught me that a community is based on people helping each other," Booty said. "The great thing about RT is that anyone can come and help, and we emphasize that we are doing work not for homeowners but with them, as part of their community."
RT requires that eligible homeowners be somehow unable to complete the work themselves. However, residents are encouraged not only to be present during Rebuilding Day to get to know the volunteers, but to have able-bodied friends and relatives join in if they choose.
More than 25 Bates students, staff and faculty took part in Rebuilding Day 2004, many of them at one particular home. Seeing all those Batesies dedicate their whole Saturday, singing and shoveling together, knocking down walls and putting up fences, it became clear that we were doing something good not only for the Lewiston-Auburn community but for Bates. Here was the perfect reason to get off campus and get your hands dirty; as Hillary Schwab '04 put it, "I'm here to break the 'Bates Bubble.' "
Even more impressive was the gender representation at the "Bates" house. After an old rotting shed was torn down, about 10 Bates women spent the afternoon shoveling, raking, hoeing and spreading mountains of soil to lay the groundwork, so to speak, for a new lawn.
The show-tune soundtrack — everything from Annie to Mamma Mia — was probably not what the guys in the basement with the power tools would have chosen. But the work was hard and the women handled it with impeccable teamwork and some laughs. It took only a few sore toes, achy shoulders and one slip into a fencepost hole before we could stand back and admire a lawn ready to grow, a sturdy fence and a new brick path leading to a freshly stained porch.
After several walls in the basement had been taken down, one huge, empty room remained. "My daughter can go roller-skating in there now! It's great!" said the excited homeowner (who preferred to remain unnamed for this article).
Rebuilding Day not only achieved its goal of restoring pride and livability to several homes, it brought out the best Bates has to offer. Graduating RTLA founder Johnson, who has raised some $75,000 for the chapter, hopes to enlist new volunteers on campus to keep the program vital.
The day demonstrated both the amount that many hands can accomplish in a single day and the impact that volunteer work can have right in one's own back yard. Everyone was more than willing to work eight hours in the 80-degree sun so that a future Broadway sensation and her mom could have a safer, better place to live.
View Comments