Real-world experience tops expectations in volcano visit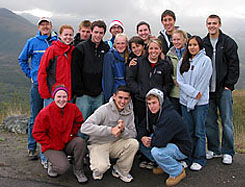 About a year ago, when professor of geology John Creasy was designing a first-year seminar exploring both the science of volcanoes and their affects on people, a field trip to Mount St. Helens seemed ideal.
After all, what better illustration of volcanic power than the mountain whose May 1980 eruption blasted a vast expanse of landscape, destroyed or damaged hundreds of homes, choked daily activity in the Pacific Northwest with a dense cloud of ash and left 57 people dead or missing?
In addition, Mount St. Helens was easy to get to, Creasy explains, "and it had generated a lot of coverage and scientific attention" accessible to students in the new seminar. (The seminar is titled "Volcanoes and Human Populations" and was created with support from a Howard Hughes Medical Institute Curriculum Development Grant.)
But Creasy's plan was even better than he knew. On Sept. 23, about a month before the seminar expedition, the mountain rumbled to life again, emitting steam, ash and fresh magma flows that amassed in the 1980 crater. It was still cooking, if more quietly, on Oct. 20 when the 18-member Bates team began its five-day field trip.
"I was very excited to hear that Mount St. Helens was stirring after 18 years of repose, just in time for our field trip," Creasy says. "But it did put our trip in a different light."
His original plan involved hiking right into the heart of the 1980 impact zone  — the woodlands and streams devastated by the explosion and heat, or buried under mud, rock and ash to depths of up to 600 feet. But with the new volcanic activity the U.S. Forest Service effectively closed off areas Creasy had hoped to visit. (Thanks to persistent cloud cover, the Bates team never saw the top of the mountain, either.)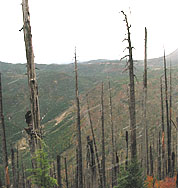 Still, the new situation was an improvement in an important way. "The potential for a new eruption sharply focused the human impact of volcanism as something here and now," he says. "Students could directly experience the interaction of the many stakeholders — scientists, government agencies, media, residents — in the anticipation and anxiety accompanying the volcano."
"The field trip brought a much deeper understanding and appreciation of volcanic hazards," he says, "than could have been gained by hiking about a quiescent volcano."
"It wasn't like just reading old material," agrees Ian Kimball, a first-year student from Candia, N.H. "It was something that you'd wake up and look forward to seeing every day — 'Is it going to erupt?' You could keep up with it while you were reading about the other stuff."
A case in point was a key stop for the group, the U.S. Geological Survey's Cascades Volcano Observatory, in Vancouver, Wash. "There were literally scientists coming in there from around the world," says Creasy. "We were lucky to get their time, because they're working basically 24-7 as long as the mountain is restless."
"We were working with scientists who were doing research as it really happens in the field, and the kids were able to see that," adds Laura Kling Lovely '76, who teaches middle-school math and science in Marblehead, Mass., and came along as an assistant trip leader (as did Assistant Professor Beverly Johnson, a departmental colleague of Creasy's).
In this age of media sensationalism, Lovely adds, "the people at CVO had to be very careful dealing with the public in terms of just making sure that they didn't incite panic, and yet kept people well-informed."
In the bigger picture, Creasy says, the reaction to the volcano's current activity offered an object lesson in human adaptiveness. The 1980 eruption, he says, caught the mountain's stakeholders off guard and largely unprepared. "But as a result they put into place a lot of protocols should something like this happen again," he explains.
In any case, if the Bates team couldn't get as close to the mountain as Creasy had hoped, they nevertheless saw plenty of evidence of the 1980 disaster. Even 24 years later, and with new vegetation and wildlife returning, it's a stark terrain of mud, rock and ash deposits, obliterated watercourses, and scorched and toppled trees.
"It was really overwhelming," Kimball says.
In addition, the group visited other research and interpretive centers around the volcano and worked in a side trip to Multnomah Falls, on the Columbia River in Oregon, to see a cross-section of hardened lava deposits millions of years old.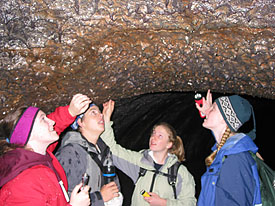 But the cryptically named Ape Cave was certainly a high point far as the students were concerned. Technically a "lava tube," a conduit for magma draining from Mount St. Helens during an eruption some 2,000 years ago, the tube's upper and lower caves total more than two miles long and offer a morning's worth of exploration. (The cave is named for the members of an outdoor group called the Mount St. Helens Apes.)
Cold, dark, wet, rough to walk through and provoking to the claustrophobic, Ape Cave was naturally a hit. "Just to be able to walk through that, and get an idea of just the sheer size of it and how much lava was flowing through there, really helped to put everything into perspective," Kimball says.
Another high point had little to do with volcanology, but did address a common goal for first-years: "The whole value of the trip was the relationships we formed as a group," as one student told Creasy.
Kimball agrees. "I think everyone came out of the trip with more of a positive relationship with each other and a little bit more that they know about every person in the course."
View Comments