Brooks Quimby Debate Council hosts high school tournament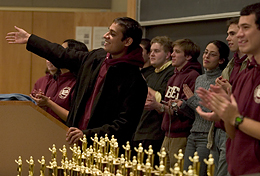 For the second consecutive year, the Brooks Quimby Debate Council hosted an all-day forensics tournament Saturday, Dec. 4, for approximately 260 Maine high school students. A scheduled tournament for the 2004-05 season of the Maine Forensics Association, the judged competition featured events in speech, Lincoln-Douglas debate and Student Congress. The MFA promotes the development of articulate leadership among secondary students throughout the state.
Bates College sophomore Vaibhav Bajpai of Calcutta, India, organized the tournament with the help of his debate teammates and their coach, Bryan Brito, director of debate at Bates. Lewiston High School speech coach John Blanchette, Bates Class of 1987, helped to organize the speech events for the tournament.
The long-term planning and intense last-minute preparations to stage Saturday's gathering were well worth the effort, Bajpai said. A debate tournament of this size serves two purposes, he said. In addition to adding a tournament to the calendar of high school speech and debate in Maine, "it projects Bates in the debate community as a college with an exceptionally strong debate program. When high school seniors think 'debate school,' they think 'Bates.'"
Schools receiving top tournament honors from the Brooks Quimby Debate Council were: Yarmouth High School for best overall performance by a team in Student Congress; Cape Elizabeth High School for best overall performance by a team in speech; and Brunswick High School for best overall performance by a team in Lincoln-Douglas debate.
View Comments