Rabbi discusses mid-career change in Bates spirituality series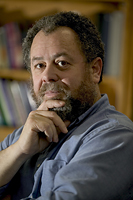 Rabbi Hillel Katzir of Auburn's Temple Shalom Synagogue-Center discusses his journey of religious heritage, culminating in a mid-life career change, at 4:30 p.m. Thursday, Dec. 1, in Skelton Lounge, Chase Hall, 56 Campus Ave., Bates College.
The public is invited free of charge to his talk, titled "Life as a Work in Progress: Stories of a Mid-Career Rabbi." The talk is part of the series "Spiritual Journeys: Stories of the Soul 2005-06," sponsored by the Office of the Chaplain. Call 207-786-8272 for more information.
Spiritual leader of Temple Shalom, Katzir was born and raised in Los Angeles, and lived in Israel for nine years in his 20s and early 30s. Upon returning to the United States, he attended law school and practiced law for 15 years in California and New Mexico. For several years he led High Holy Day services as a cantor in synagogues in the Southwest.
Katzir left the practice of law in 2001 to become a full-time cantor at a synagogue in the Midwest, where he discovered a love for the rabbinic role of teaching religion and spirituality.
He came to the Twin Cities in March 2003, when he accepted a position with Temple Shalom, and was ordained as a rabbi by the Rabbinical Seminary International in New York in 2004. Katzir lives in Lewiston with his wife, Suzan.
Katzir's journey, he says, took him from an always-present, although vague and undefined sense, of spirituality to a strong foundation in Jewish religious practice as a means of spiritual expression. A man who embraces not knowing where his path will take him, Katzir will share his insights about remaining open to life's ever-unfolding purpose.
View Comments