Museum of Art installations in 'Activator' create dynamic environment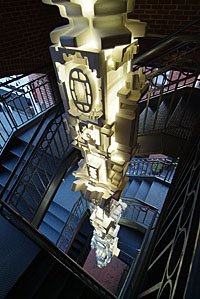 A structure made of Styrofoam packing materials and a system that renders museum-goers' images into sound are among the six artworks in Activator, a group exhibition of installations at the Bates College Museum of Art.

The show opens with a reception and artist gallery talks at 7 p.m. Thursday, Jan. 19, in the museum, located in the Olin Arts Center, 75 Russell St. The exhibition runs through March 20.
"Activator is about the inherent ability of installation art to activate the architecture of a space, and the viewer within it, in a manner distinct from two-dimensional art," says Liz Kelton Sheehan, who curated the show.
"The six installations embody this idea on a number of levels — formally, with color, scale and materials, and conceptually, with the artists' attention to the viewer's physical engagement with the work."
Participating artists are Nate Aldrich and Zach Poff, Astrid Bowlby, Amy Stacey Curtis, Eric Hongisto, Nicola López and Jason Rogenes.
In the last if a series of artist talks about the show, Curtis discusses her work in Olin 104 at 7 p.m. Thursday, Feb. 2. Sheehan, the museum's assistant curator, offers tours of "Activator" at noon Jan. 24 and March 14.
Admission to the museum and its activities is open to the public at no charge. For more information, please call 207-786-6158 or visit the museum Web site.
The Bates museum hasn't shown installation work on this scale before, says Sheehan. "These artists are really interested in energizing museum visitors in a different way. They want to make visitors aware of the space they're in, aware of their bodies in the space and how they move through a work of art — how they respond to it with all of their senses."
Here's more about the artists:
N.B. Aldrich and Zach Poff have collaborated in the creation of "Observational Soundscape." Mounted outside the museum in the Olin Arts Center entryway, the piece uses video, audio and computer technology to transform images of visitors into sound and ambient sound into images. Aldrich and Poff previously installed collaborative work at the University of Maine and Cooper Union School of Art, New York City.
Aldrich is a new-media artist residing in Brooks who creates installation, video, performance and audio art. He teaches at the University of Maine in the new-media department. Poff is a media artist, educator and sound recordist who lives in Brooklyn, N.Y. His work is concerned with the culture of broadcasting, subverting communications technology to reveal the structures and artifacts of media itself.
A native of Bath, a Philadelphia resident and a 2002 graduate of the Skowhegan School of Painting and Sculpture, Astrid Bowlby's installations operate as both drawing and sculpture. She uses thousands of ink drawings mounted on floor, walls and ceiling to investigate themes such as expansion and contraction, density accumulation and scale.
A resident of Gray, Amy Stacey Curtis is the Maine Arts Commission's 2005 Individual Artist Fellow for Visual Art. Exploring issues of chaos, order and repetition, Curtis often lists "audience" among the media in her work. At Bates, her "Modulation I" comprises more than 2,000 aluminum cans bearing a color spectrum on the inside and arranged in a circle on the floor.
Eric Hongisto received his bachelor's degree at the Maine College of Art and also attended the Skowhegan School. A New Jersey resident, he makes murals that exploit the communicative properties of color and that use architecture to prompt viewers to reconsider the space they inhabit.
Nicola López, of Brooklyn, uses a variety of media to explore how place is constructed and represented through drawings, prints, mixed-media collages and installations. A Skowhegan School alumna, she uses the visual language of maps to comment on ways the dominance of technology have affected culture and society.
Jason Rogenes, also of Brooklyn, is a former preparator at the Farnsworth Museum of Art, Rockland, and the fourth Skowhegan School alumnus in "Activator." Widely exhibited in Maine and across the country, Rogenes uses Styrofoam packing materials to build massive, dramatic structures that he calls "techno-clouds of potential." At Bates, his installation in the museum stairwell will unify the upper and lower galleries of the museum.
Showing concurrently with Activator is a small exhibition of works, loaned from the Ovitz Family Collection, by British artist Keith Tyson, winner of the 2002 Turner Prize. A multimedia artist known for the playful complexity of his work, Tyson is interested in the way the scientific paradigm — the notion that all things are explainable in scientific terms — is applied across the spectrum of life.
"I'm fascinated by science's dogmatic determinism, the belief that any event or action, however complex, arises from hydrogen atoms bashing together after the Big Bang," he said in a Tate Gallery publication in 2002.
The museum is open from 10 a.m. to 5 p.m. Tuesday through Saturday, and is closed Sundays, Mondays and major holidays.
View Comments