Bates boards biofuel bandwagon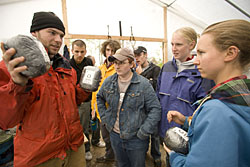 Bates College, which last fall contracted to buy all its electricity from renewable sources, has taken another step toward environmental sustainability with an arrangement to heat some of its student residences with cleaner-burning biofuel.
In late March, Bates started heating 12 residential houses on Frye Street with so-called B5, a blend of petroleum heating oil with 5 percent biofuel made from soy or canola oil.
Biofuel is a cleaner alternative to pure heating oil, as well as diesel vehicle fuel, and pure biofuel is a renewable, domestically produced resource.
Bates has joined a handful of other Maine institutions heating with biofuel, including Colby College, the University of Southern Maine, Maine Aububon, L.L. Bean and state government, which uses it to heat the governor's mansion, among other buildings.
"Bates people are always looking for alternatives that are more environmentally friendly," says Bob Leavitt, assistant director of maintenance and operations for the college's Facility Services department. The department initiated the new arrangement with supplier American Alternative Energy, of Gorham.
While biofuel is available in a variety of blends, Bates has started with B5 because of warranty issues on its burner equipment. But even in a proportion as small as one-twentieth of the blend, biofuel will reduce pollutants and reduce maintenance on the heating equipment in the 12 houses, says Steve Catir, principal of American Alternative.
The biofuel is costing the college roughly the same as straight No. 2 heating oil.
Biofuel is a happening topic at Bates these days. In addition to the arrangement with American Alternative Energy, a group of students and faculty is exploring the idea of Bates someday making its own biofuel from cooking oil discarded by the college's dining services.
With Bates on the verge of building a new dining facility, the group is investigating the prospect of including a biofuel conversion system in the new building. Instead of going into the waste stream, they reason, cooking fats could be made into fuel for heating some college buildings and running its diesel vehicles.
"The reaction is not very difficult to complete, and it got us thinking that starting a biodiesel program at Bates is not that far-fetched an idea," says Sarah Mazur, a senior from Winooski, Vt.
During the winter semester, Mazur took an environmental geochemistry course, taught by assistant professor of geology Beverly Johnson, in which the class converted a small amount of vegetable oil into biofuel. During the spring, the biofuel group visited the Chewonki Foundation, in Wiscasset, which has created equipment that converts cooking fat.
"Obviously there will be lots of short-term goals to get to the point" of Bates making its own fuel, Mazur says. But, she says, "with oil prices on the rise, tapping into this resource will have great environmental and economic benefits for Bates."
View Comments