Don't look now, but we've been medicalized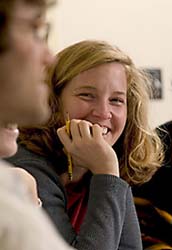 Not so long ago, shyness was usually seen as a random character trait, sadness the natural reaction to misfortune and alcoholism a sign of personal weakness.
In recent decades those conditions, and many others, have been "medicalized" — associated with biological causes and redefined as medical diagnoses, not merely products of personality or fate.
Rebecca Herzig, associate professor of women and gender studies at Bates, played a key role in a novel exploration of this pervasive phenomenon, an exploration resulting in a recent series of essays in the medical journal The Lancet.
"Most people would be familiar with medicalization from television ads for a range of things that once weren't considered causes for concern — excessive sweating, difficulty urinating or trouble finding one's car keys," Herzig explains. "Now these are often considered symptoms of some larger underlying biomedical disorder best handled by a professional physician, and probably by a prescription pharmaceutical."
Herzig, whose teaching focuses on the social dimensions of scientific change, was one of two co-conveners of a 2005 gathering that scrutinized medicalization through the lenses of psychiatry, gender studies, sociology, history, philosophy and anthropology. The Lancet essays came out of this ground-breaking session.
"We sought to examine the issue from several different perspectives," Herzig says. "How has medicalization emerged historically? How is it playing out in different cultures? How is it divided by classic social categories like race or gender or citizenship?"
What most interested Herzig and her co-convener, University of Michigan psychiatry professor Jonathan Metzl, is the utter pervasiveness of medicalization. "There's now no longer a time where we don't understand ourselves as medicalized, from the time we're given childhood vaccinations until we start being treated for Alzheimer's disease," she says.
"So rather than just thinking 'This is bad' or 'This is good,' we wanted to start trying to understand how this came to be and how it affects what's possible in our world."
Herzig came to the subject through her work as a member of the advisory board of the Bringing Theory to Practice Project, an initiative of the Association of American College and Universities. The project, directed by Bates President Emeritus Donald Harward, is exploring ways that "engaged learning" — outwardly focused educational experiences such as service-learning — may benefit today's students.
In other words, says Herzig, the project aims to "address some problems facing students in traditional college settings — increasing rates of depression, of chemical abuse or of self-injurious behavior — by reconnecting them to a larger sense of civic engagement."
Metzl, too, is on the advisory board. Herzig says, "We've seen a nationwide trend of confronting broad issues of student disengagement with individual medical diagnoses and therapies. That interested us in exploring where medicalization came from, and how deeply it has permeated our understandings of students and the college experience."
Besides Herzig and Metzl, the scholars involved in the 2005 medicalization gathering and the Lancet articles are Nancy Tomes, of the history department at the State University of New York at Stony Brook; Nikolas Rose of the London School of Economics; Troy Duster of New York University; and Cindy Patton of Simon Fraser University in Vancouver.
Links to the Lancet articles appear on the AACU Web site.
View Comments